Warning: This post was published more than 10 years ago.
I keep old posts on the site because sometimes it's interesting to read old content. Not everything that is old is bad. Also, I think people might be interested to track how my views have changed over time: for example, how my strident teenage views have mellowed and matured!
But given the age of this post, please bear in mind:
My views might have changed in the 10 years since I wrote this post.
This post might use language in ways which I would now consider inappropriate or offensive.
Factual information might be outdated.
Links might be broken; embedded material might not appear properly.
Many thanks for your understanding.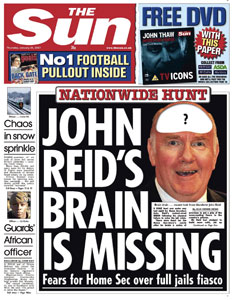 An absolutely classic front page greets readers of The Sun today, with the fantastic headline 'John Reid's brain is missing'.
They claim that a nationwide search is underway for John Reid's 'walnut' sized brain, as they are unhappy with the way the Home Secretary has dealt with the full jails fiasco – which can, of course, be added to a long list of Home Office fiascos from the last few weeks alone.
Can John Reid ride out the storm, or will he soon become the next casualty of the cursed position of Home Secretary? I suspect the former…
It's also been particularly fun watching the news programmes reviewing the front pages with this one… Tim Wilcox on BBC News 24 certainly seemed amused by it – but then, for a newsreader, it must be pretty satisfying to get to read a headline like that…
This 1,047th post was filed under: Media, News and Comment, Politics.