Warning: This post was published more than 12 years ago.
I keep old posts on the site because sometimes it's interesting to read old content. Not everything that is old is bad. Also, I think people might be interested to track how my views have changed over time: for example, how my strident teenage views have mellowed and matured!
But given the age of this post, please bear in mind:
My views might have changed in the 12 years since I wrote this post.
This post might use language in ways which I would now consider inappropriate or offensive.
Factual information might be outdated.
Links might be broken; embedded material might not appear properly.
Many thanks for your understanding.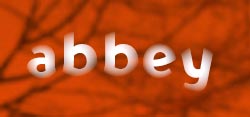 Which of Abbey's new looks do you prefer? I can certainly see why, in this modern age, someone would rebrand from the first to the second, but why would anyone in the right mind go from the second to the first?
The first logo looks staid, old-fashioned, and boring – very samey. The second looks funky, fresh, and something a bit different. Why, oh why, rebrand when you've just spent eighteen months making your brand a success, and turning around your failing business?
I don't get it!
This 390th post was filed under: News and Comment.