Warning: This post was published more than 9 years ago.
I keep old posts on the site because sometimes it's interesting to read old content. Not everything that is old is bad. Also, I think people might be interested to track how my views have changed over time: for example, how my strident teenage views have mellowed and matured!
But given the age of this post, please bear in mind:
My views might have changed in the 9 years since I wrote this post.
This post might use language in ways which I would now consider inappropriate or offensive.
Factual information might be outdated.
Links might be broken; embedded material might not appear properly.
Many thanks for your understanding.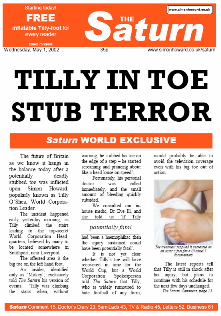 If you remember this site six years ago, in the days before the blog when Tilly O'Shea, The Corporation, and TOSSers reigned supreme, then this may be as much as blast from the past for you as it is for me.
Browsing the site's external archives recently, I've unearthed a veritable mine of stuff that I haven't seen in years – and frankly thought was lost forever. In fact, it came from the old simonhoward.co.uk, in the days before sjhoward.co.uk ever existed…
Perhaps the most startling find is this complete mock red-top newspaper report, which formed part of my A-Level English work, but also formed the centrepiece of a whole website about Tilly O'Shea and The Corporation – some of which still survives via the Wayback Machine. It's amazing to look back at crap I wrote so long ago – and endlessly fascinating. Though probably primarily for me, I'd guess.
There are a couple of other things I've rescued from digital oblivion, primarily for the sake of nostalgia – a small collection of downloadable pub quizzes and lyrics to a few Lazlo Bane songs have both found a new home in the 'Freebies' section. And I guess no sjhoward.co.uk nostalgia-fest would be complete without links to the latest So It Goes column by Jason Love, and The View from Here column by Shelley Strauss Rollison, both of which were at one time popularly syndicated by this very site.
If that's quite enough parochial navel-gazing for you, then you'll be utterly dispirited to learn that this very blog's fifth birthday is just a little over two-weeks away, and there's bound to be more self-congratulatory whooping then. I can't wait!
This 1,312th post was filed under: Headliner.