Warning: This post was published more than 10 years ago.
I keep old posts on the site because sometimes it's interesting to read old content. Not everything that is old is bad. Also, I think people might be interested to track how my views have changed over time: for example, how my strident teenage views have mellowed and matured!
But given the age of this post, please bear in mind:
My views might have changed in the 10 years since I wrote this post.
This post might use language in ways which I would now consider inappropriate or offensive.
Factual information might be outdated.
Links might be broken; embedded material might not appear properly.
Many thanks for your understanding.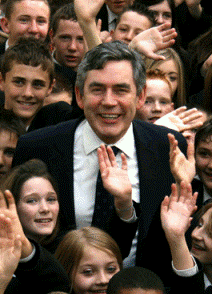 This morning, Tony Blair was 'delighted' to back Gordon Brown as the next Prime Minister. I bet it hurt, and probably stuck in his throat a little. Nothing could have pained him more.
So not surprising, then, that Blair decided to get back at Brown by scheduling a speech for the same time as Brown's campaign launch. It's no accident – Alistair Campbell's famed grid system tells us that. It's clearly a spoiler.
Yesterday, Andrew Neil was practically running a book on when Blair's first coded jibe about Blair would happen, and one commentator suggested it would be today. Looks like he was right.
This 1,130th post was filed under: News and Comment, Politics.