Warning: This post was published more than 11 years ago.
I keep old posts on the site because sometimes it's interesting to read old content. Not everything that is old is bad. Also, I think people might be interested to track how my views have changed over time: for example, how my strident teenage views have mellowed and matured!
But given the age of this post, please bear in mind:
My views might have changed in the 11 years since I wrote this post.
This post might use language in ways which I would now consider inappropriate or offensive.
Factual information might be outdated.
Links might be broken; embedded material might not appear properly.
Many thanks for your understanding.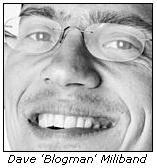 I'd like to make an apology. Back in April, I claimed that David Miliband had spent £6,000 setting up a blog on the ODPM website. New facts – directly from the horse's mouth, so-to-speak – have now come to light, and I'd like to apologise for the error.
In fact, the first year of Mr Miliband's blogging efforts has cost the taxpayer £8,150.
That's £6,000 initial set-up costs, £1,250 to change the ODPM JPEG to a Defra one, and then a further £900 annual running costs. On top of this, some poor dogsbody civil servant is paid an unspecified amount to spend an unspecified length of time
posting blogs and comments
Yes, it would appear that a civil servant is paid to comment on the blog. Which, in my mind at least, rather defeats the purpose.
Mr Miliband pays someone to write his blog, and then pays someone to leave comments that presumably toe the party line. A great service to democracy, and all for £8,150 plus wages.
Bargain.
This 890th post was filed under: News and Comment.