Warning: This post was published more than 10 years ago.
I keep old posts on the site because sometimes it's interesting to read old content. Not everything that is old is bad. Also, I think people might be interested to track how my views have changed over time: for example, how my strident teenage views have mellowed and matured!
But given the age of this post, please bear in mind:
My views might have changed in the 10 years since I wrote this post.
This post might use language in ways which I would now consider inappropriate or offensive.
Factual information might be outdated.
Links might be broken; embedded material might not appear properly.
Many thanks for your understanding.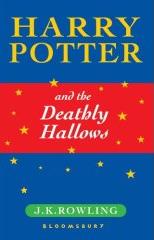 As soon as the title was announced, Harry Potter and the Deathly Hallows went on pre-order sale at Amazon.co.uk (Harry Potter and the Dealthy Hallows
). And it's already at Number One in their book chart.
A book, length unknown, content unknown, price unknown, and release date unknown reaches Number One in the chart. Surely this must be a first? Also interesting to see that Amazon are charging £13.99 – oh, how we'll laugh if JK Rowling outdoes herself and comes out with some oh-so-weighty tome that will cost a good £15.99 at retail… Amazon could lose an awful lot of money!
This 1,021st post was filed under: Book Club, Media, News and Comment.