Warning: This post was published more than 11 years ago.
I keep old posts on the site because sometimes it's interesting to read old content. Not everything that is old is bad. Also, I think people might be interested to track how my views have changed over time: for example, how my strident teenage views have mellowed and matured!
But given the age of this post, please bear in mind:
My views might have changed in the 11 years since I wrote this post.
This post might use language in ways which I would now consider inappropriate or offensive.
Factual information might be outdated.
Links might be broken; embedded material might not appear properly.
Many thanks for your understanding.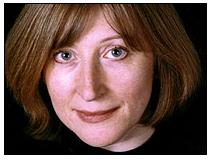 Comedian Linda Smith has died from ovarian cancer, aged 48.
Linda was somebody I, along with many others, liked a lot. She was one of that rare breed of comedian that can always make you smile, regardless of what mood you're in, or however much you don't want to. I loved listening to her on The News Quiz, Sorry I Haven't a Clue, Just a Minute, and watching her appearances on the excellent QI, as well has her not infrequent appearances on Question Time, where she always had interesting points to make – as always, deadly serious but delivered in a comic way.
In his tribute, Jeremy Hardy tells how Linda chose not to tell many people about her cancer, not wanting to be seen as 'that comedian with cancer', but rather just 'that great comedian'. And she truly was great.
There are formal obituaries on the BBC website, and also at MediaGuardian.
She will be sadly missed.
This 833rd post was filed under: Media, News and Comment.