Warning: This post was published more than 10 years ago.
I keep old posts on the site because sometimes it's interesting to read old content. Not everything that is old is bad. Also, I think people might be interested to track how my views have changed over time: for example, how my strident teenage views have mellowed and matured!
But given the age of this post, please bear in mind:
My views might have changed in the 10 years since I wrote this post.
This post might use language in ways which I would now consider inappropriate or offensive.
Factual information might be outdated.
Links might be broken; embedded material might not appear properly.
Many thanks for your understanding.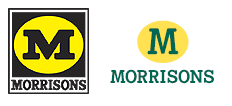 Morrisons is rebranding. It should have rebranded about twenty years ago. Still, you might say, better late than never. Until you see the effort they've come up with.
They've managed to turn something ugly, dated, and memorable into something uglier, tackier, and instantly forgettable. It's really quite an achievement. It's a circle with the letter 'M', and 'Morrisons' written underneath. They've taken the first letter of their name, and stuck it in a circle. They've swapped black for a wishy-washy greeny colour. It looks like something a colour-blind medical student with no design skill might have designed in Paint.
I'm really struggling to find something positive to say about it. Erm… I don't think I can find anything. But you know what would've looked better? This.
This 1,108th post was filed under: News and Comment.