Warning: This post was published more than 11 years ago.
I keep old posts on the site because sometimes it's interesting to read old content. Not everything that is old is bad. Also, I think people might be interested to track how my views have changed over time: for example, how my strident teenage views have mellowed and matured!
But given the age of this post, please bear in mind:
My views might have changed in the 11 years since I wrote this post.
This post might use language in ways which I would now consider inappropriate or offensive.
Factual information might be outdated.
Links might be broken; embedded material might not appear properly.
Many thanks for your understanding.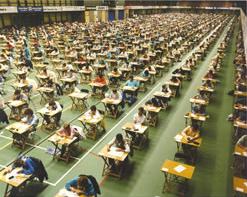 It's the story we never hear in the media. 75% of 18-year-olds have just failed to get three passes (grade E or above) at A-Level. Popular opinion, mainly thanks to the media, has it (in a survery I can't find again to link to) that over 80% of 18-year-olds reach this standard. Bollocks. The vast, vast majority of the young people in our country don't even attempt A-Levels, let alone pass them.
Let's talk, me and you, about one of the most respected, classical subjects at A-Level: History. Of the 375,000 18-year-olds in the country, the top 13% sat an A-Level in the subject. Frankly, these days, that's an acheivement. Schools no longer enter people they don't think will do well, because it damages their league table results and ultimately affects funding, which is why 87% of the population don't get to take it. So it is fair to say that the 13% of youngsters sitting the History A-Level are the top historians of their age in the land. Well done.
10.9% of the 18-year-olds in this country passed that A-Level. We've weeded out 89.1% of the population – hundreds of thousands of people – without even looking at grades. But if we choose to look at that top 'A' grade, we find that just 2% of the population managed to achieve it. 98% didn't.
In chemistry, only 9% of the population passed, with under 2% acheiving the top grade. For maths, the top 13% were entered, and the top 3% got A's. And for the much lamented media studies, 7% were entered and just 1.5% got A's.
People say that A-Levels are easy, worthless, and don't discriminate anymore. Yet the vast majority don't pass them, and our example shows that very few reach the top grades. How much more discriminating would you like them to be?
This 934th post was filed under: News and Comment.