Warning: This post was published more than 10 years ago.
I keep old posts on the site because sometimes it's interesting to read old content. Not everything that is old is bad. Also, I think people might be interested to track how my views have changed over time: for example, how my strident teenage views have mellowed and matured!
But given the age of this post, please bear in mind:
My views might have changed in the 10 years since I wrote this post.
This post might use language in ways which I would now consider inappropriate or offensive.
Factual information might be outdated.
Links might be broken; embedded material might not appear properly.
Many thanks for your understanding.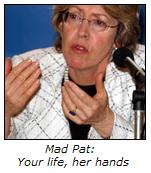 To all those people that are complaining about Patricia Hewitt distancing herself from the recent (predictable) problems with Modernising Medical Careers, and saying she's hiding behind Lord Hunt – you're missing the point. She doesn't care.
Patricia Hewitt has said publically that she thinks the NHS has too many doctors and nurses. If doctors are choosing to go abroad – good riddance! That'll help to balance the books, so Ms Hewitt can pay for more managers.
After all, if doctors are starting to complain about things, then something's clearly wrong: They're not being worked hard enough if they have time to make a fuss. We clearly need more managers.
This 1,081st post was filed under: Health, News and Comment, Politics.