Warning: This post was published more than 9 years ago.
I keep old posts on the site because sometimes it's interesting to read old content. Not everything that is old is bad. Also, I think people might be interested to track how my views have changed over time: for example, how my strident teenage views have mellowed and matured!
But given the age of this post, please bear in mind:
My views might have changed in the 9 years since I wrote this post.
This post might use language in ways which I would now consider inappropriate or offensive.
Factual information might be outdated.
Links might be broken; embedded material might not appear properly.
Many thanks for your understanding.
There's a pub in central Newcastle which has posters outside perpetually advertising appearances by the drag act Ophelia Balls. Thanks to my sweet innocence, it took me to walk past the pub many tens of times before – earlier this week – the terrible pun in the act's name finally registered.
Having barely recovered from the shock, imagine my surprise at finding this new product on a visit to Ikea this weekend: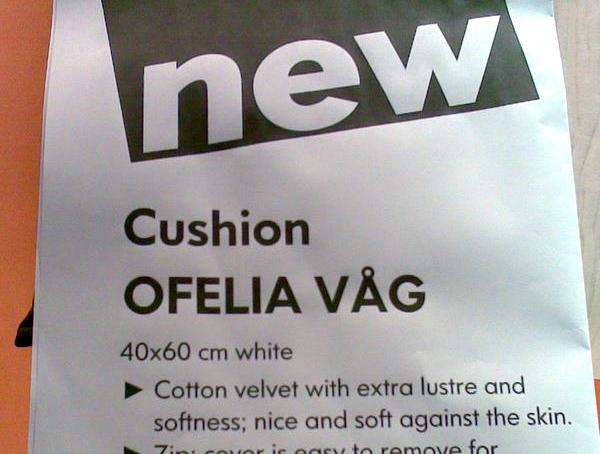 Apparently, it's part of the bigger Ofelia Collection. Surely they must have noticed…
This 1,332nd post was filed under: Headliner.