Warning: This post was published more than 5 years ago.
I keep old posts on the site because sometimes it's interesting to read old content. Not everything that is old is bad. Also, I think people might be interested to track how my views have changed over time: for example, how my strident teenage views have mellowed and matured!
But given the age of this post, please bear in mind:
My views might have changed in the 5 years since I wrote this post.
This post might use language in ways which I would now consider inappropriate or offensive.
Factual information might be outdated.
Links might be broken; embedded material might not appear properly.
Many thanks for your understanding.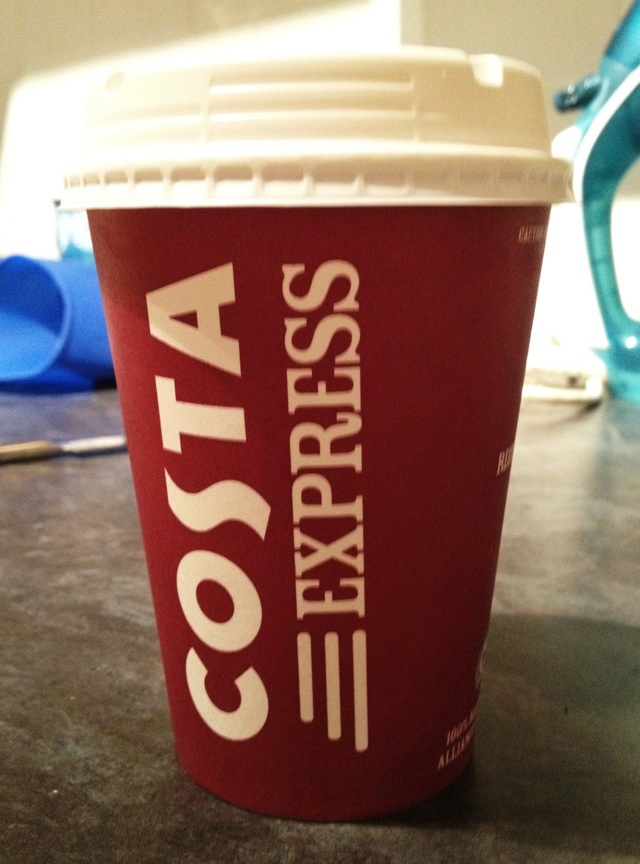 A couple of weeks ago, I wrote about the seemingly unstoppable spread of Costa Express machines. Today, I thought I'd throw caution to the wind, and – against my better judgement – try a hot chocolate produced by one of these machines.
My previous experience of machine-produced hot beverages has been dominated by overpriced and undrinkable rubbish from hospital vending machines. I'm not quite sure what I expected from this Costa machine: Something resembling coffee shop hot chocolate? Something undrinkable? Something inbetween?
As I pressed the button for a Costa hot chocolate, the one thing I didn't expect was a cup of warm milk… yet that's what I got! Not a drop of chocolate in sight! My faith in machine-crafted hot drinks isn't exactly restored…!
This 1,714th post was filed under: Photo-a-day 2012, Costa, Retail.