Warning: This post was published more than 5 years ago.
I keep old posts on the site because sometimes it's interesting to read old content. Not everything that is old is bad. Also, I think people might be interested to track how my views have changed over time: for example, how my strident teenage views have mellowed and matured!
But given the age of this post, please bear in mind:
My views might have changed in the 5 years since I wrote this post.
This post might use language in ways which I would now consider inappropriate or offensive.
Factual information might be outdated.
Links might be broken; embedded material might not appear properly.
Many thanks for your understanding.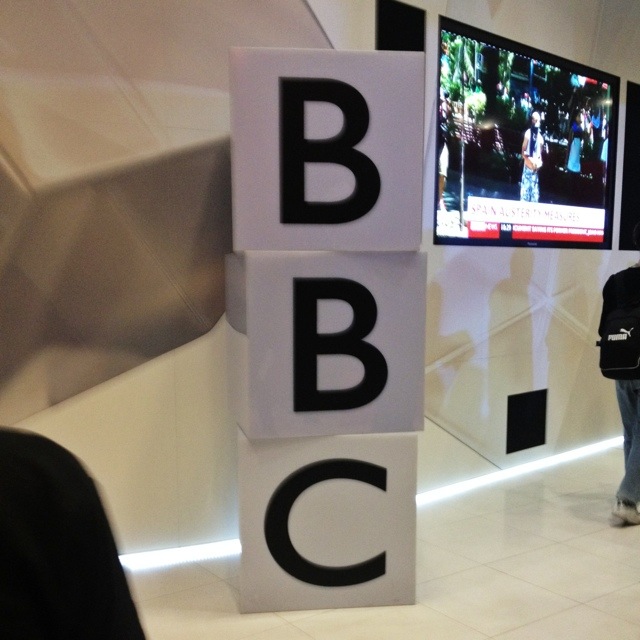 If you judge your bloggers by the photos they take, then I expect you won't be very impressed with me today.
Last night, I visited the art deco masterpiece that is the BBC's Broadcasting House and its Radio Theatre, but emerged with only a single photograph showing this gimmicky interpretation of the BBC logo, from the Media Cafe.
I was there to watch a recording of Arthur Matthews's new comedy, The Golden Age. It was very funny. There was even a small amount of audience participation, including singing – I expect that I, along with the rest of the audience, will be signed by Simon Cowell as soon as it's aired. It was quite interesting to see a Radio 4 audience in the flesh: the stereotypes are all true!
Peering through the window of the Media Cafe, it was fascinating to see the new newsroom. From that perspective, it seemed rather smaller than I'd imagined, though it still looked like a pretty nice office to work in. There was also a corner upstairs for BBC Weather, which surprised me somewhat – I thought all that was done at the Met Office.
Anyway, it was an interesting experience – and free as well. I'd definitely go back!
This 1,721st post was filed under: Media, Photo-a-day 2012.