Warning: This post was published more than 5 years ago.
I keep old posts on the site because sometimes it's interesting to read old content. Not everything that is old is bad. Also, I think people might be interested to track how my views have changed over time: for example, how my strident teenage views have mellowed and matured!
But given the age of this post, please bear in mind:
My views might have changed in the 5 years since I wrote this post.
This post might use language in ways which I would now consider inappropriate or offensive.
Factual information might be outdated.
Links might be broken; embedded material might not appear properly.
Many thanks for your understanding.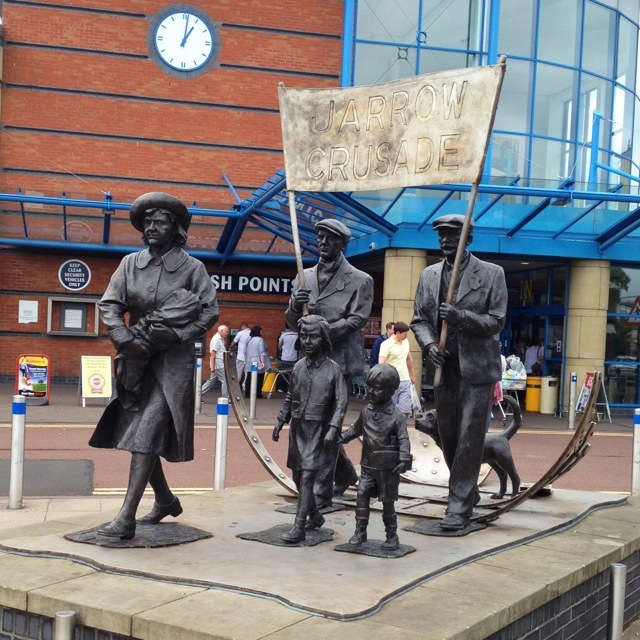 This is Spirit of Jarrow, a Graham Ibbeson statue commemorating the Jarrow Crusade. Surprisingly, it was commissioned by Morrisons, the supermarket chain; less surprisingly, it's in Jarrow.
The Jarrow Crusade was, of course, a 300-mile march of 200 shipyard workers from Jarrow to Parliament in 1936, highlighting the unemployment and poverty of the North East. It certainly didn't result in a quick win: Stanley Baldwin refused to meet the marchers, and the depression in the North East continued pretty much up until the war.
That said, it did highlight the plight of the North East, and generated a lot of popular sympathy. It's often cited as a milestone in the formation of the modern Labour party: it's interesting to remember that the formal position of Labour party of the day was opposition, though Labour giant Ellen Wilkinson was its biggest political proponent. It's perhaps a sad reflection of modern politics that such differences of opinion within a party are rarely tolerated these days.
This 1,749th post was filed under: Photo-a-day 2012, Art, Jarrow, Newcastle-upon-Tyne.