Warning: This post was published more than 5 years ago.
I keep old posts on the site because sometimes it's interesting to read old content. Not everything that is old is bad. Also, I think people might be interested to track how my views have changed over time: for example, how my strident teenage views have mellowed and matured!
But given the age of this post, please bear in mind:
My views might have changed in the 5 years since I wrote this post.
This post might use language in ways which I would now consider inappropriate or offensive.
Factual information might be outdated.
Links might be broken; embedded material might not appear properly.
Many thanks for your understanding.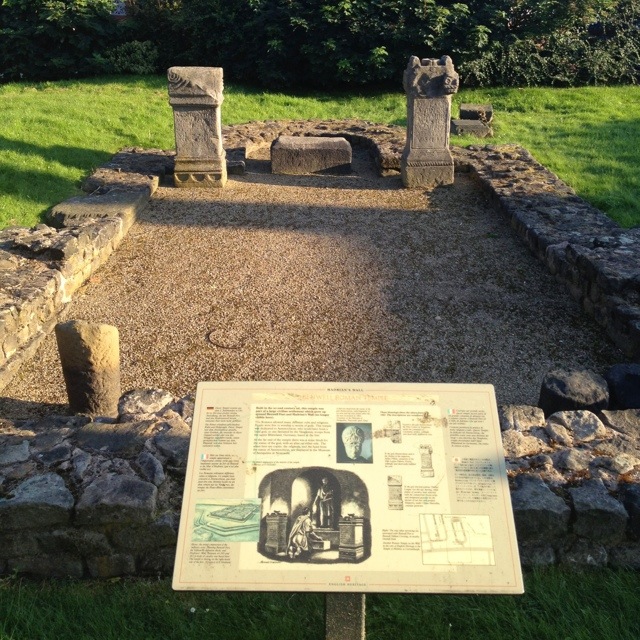 This is a temple in Benwell. It isn't very big, and there's not much left of it, but then it is about 1,900 years old. It's rather incongruously located on a residential street, a tiny patch of an English Heritage site sandwiched between two suburban semis.
It was (is?) a temple to the Roman or Brythonic god Antenociticus. This is the world's only temple to Antenociticus (also called Anociticus for short), which must mean he's a local Geordie god, I suppose, alongside the likes of Kevin Keegan and Alan Shearer. He did also get a mention in the Roman fort at Walwick Chesters.
Antenociticus's head – or, at least, the head of his statue – was found here in 1862, and is now in the Great North Museum. Apparently, his hair style suggests either a connection to the Greek gods or a Celtic deer god. If the phrase "deer god" didn't at least raise a wry smile, you're a more serious, studious historian than me. It, along with a bit of approximate etymology around his name, also gives rise to his cool English epithet: "God of the antler-fringed forehead".
If you are one of these stunningly clever people who studied A-Levels in either Classical Civilisation with OCR or Archeology with AQA, you're more than likely laughing at my childlike fascination and misunderstanding of basic historical facts right now, as this tiny site features on the syllabi of both. It seems totally extraordinary that such a poorly understood small site in such odd modern-day surroundings could be chosen – but then, I know nothing about the subjects!
This 1,761st post was filed under: Photo-a-day 2012, Benwell, Newcastle-upon-Tyne, Romans.