Warning: This post was published more than 5 years ago.
I keep old posts on the site because sometimes it's interesting to read old content. Not everything that is old is bad. Also, I think people might be interested to track how my views have changed over time: for example, how my strident teenage views have mellowed and matured!
But given the age of this post, please bear in mind:
My views might have changed in the 5 years since I wrote this post.
This post might use language in ways which I would now consider inappropriate or offensive.
Factual information might be outdated.
Links might be broken; embedded material might not appear properly.
Many thanks for your understanding.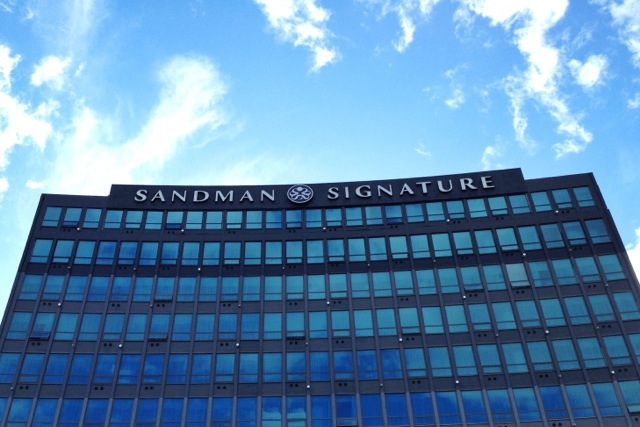 This is Newcastle's Sandman Signature hotel, which is Sandman's first hotel outside of its native Canada.
It occupies the former headquarters of Scottish and Newcastle Breweries, which was by far the UK's biggest brewer for much of the nineties and noughties. It made everything from Foster's and Kronenbourg to John Smith's and Kingfisher – plus, of course, local favourite Newcastle Brown Ale. In 2008, it was taken over by Carlsberg and Heineken, and within a couple of years the company was rebranded as Heineken UK Ltd, closing the book on a company heritage that dates back to 1749.
The hotel is part of the Downing Plaza development that is using striking architecture to create a gateway from the city centre to Newcastle's nascent Science Central development. This development, on the former site of the Newcastle Brewery itself, will host Newcastle University's sustainability research institute and other established science-related businesses alongside space dedicated to hosting and aiding science-related start-ups. There will, of course, be the typical retail and leisure sites mixed in there too.
It's a bold two-decade plan supported by a shopping-list of different organisations, and with ownership of the site shared between the city council and the university. It will be great to see it come to fruition!
This 1,833rd post was filed under: Photo-a-day 2012, Newcastle-upon-Tyne.