Warning: This post was published more than 5 years ago.
I keep old posts on the site because sometimes it's interesting to read old content. Not everything that is old is bad. Also, I think people might be interested to track how my views have changed over time: for example, how my strident teenage views have mellowed and matured!
But given the age of this post, please bear in mind:
My views might have changed in the 5 years since I wrote this post.
This post might use language in ways which I would now consider inappropriate or offensive.
Factual information might be outdated.
Links might be broken; embedded material might not appear properly.
Many thanks for your understanding.
This plan, the Grainger Town Sculptural Map, can be found just across the road from Newcastle Station. It was designed by Tod Hanson and Simon Watkinson, and put in place in 2003.
The idea is that the buildings have been reduced to their "essential forms" – no Earl Grey atop the Monument, for example – to provide an enjoyable spotting challenge to locals and tourists alike. When I first saw it, though, I didn't realise it was meant to be a representation of the local area, so it didn't really challenge me at all. Whether that's a comment on the artwork or my own dimness, I'm not sure.
Here's another angle that shows the pretty lights within: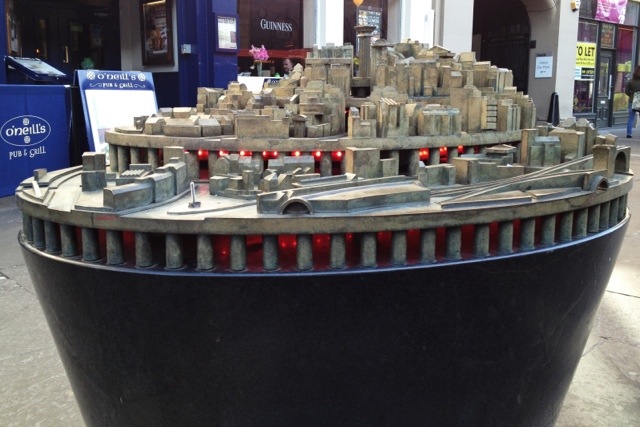 This 1,844th post was filed under: Photo-a-day 2012, Art, Newcastle-upon-Tyne.