Warning: This post was published more than 5 years ago.
I keep old posts on the site because sometimes it's interesting to read old content. Not everything that is old is bad. Also, I think people might be interested to track how my views have changed over time: for example, how my strident teenage views have mellowed and matured!
But given the age of this post, please bear in mind:
My views might have changed in the 5 years since I wrote this post.
This post might use language in ways which I would now consider inappropriate or offensive.
Factual information might be outdated.
Links might be broken; embedded material might not appear properly.
Many thanks for your understanding.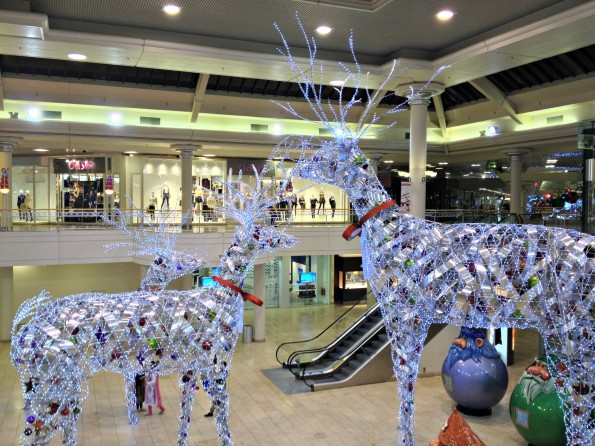 Glitzen is a 40ft tall reindeer. As tall as a house, she's the tallest reindeer sculpture in the world. This is the third year she's featured among the Metrocentre's Christmas decorations, and this year, she has two children with her.
The scale of the sculpture is certainly arresting – far more so, actually, in person than in photographs. The frame is made of over 2km of aluminium, and the sculpture is decorated with over 10,000 fairy lights. I've no stats on the new baby ones, but you'll notice from the picture that each is more than a storey tall.
It's just slightly depressing to be seeing them in October!
This 1,866th post was filed under: Photo-a-day 2012, Gateshead, Metrocentre, Retail.