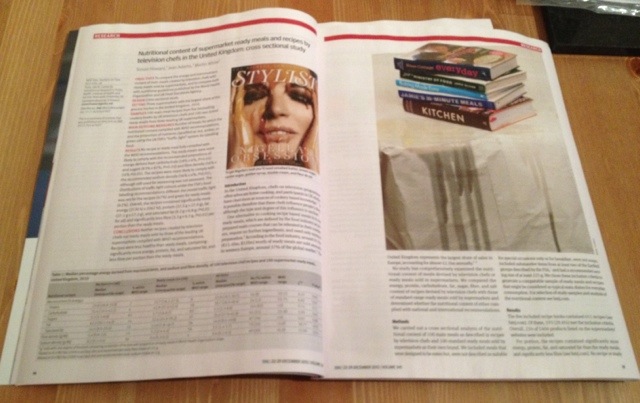 I received the paper copy of the Christmas BMJ today featuring the article I wrote with Dr Jean Adams and Prof Martin White spread over three pages…! I'd assumed they'd pack it in to a single page, so it was quite a surprise to see it spread out!
I think I've talked more about this paper in a single week than I have about any piece of work I've ever previously done…! You can hear me talking about it on this week's Pod Delusion, or you can listen to some of the radio interviews I did below.
It's all been a very exciting week for me, having never published a paper in a peer-reviewed journal before, and having done very little media work before… though I'm now very well ready for a rest! And I'm sure that applies even more to Jean and Martin, who did far more interviews than me – and far more challenging interviews than mine! I definitely got away quite lightly…!
Alfie and Charlie on BBC Newcastle, 18th December 2012
Audio clip: Adobe Flash Player (version 9 or above) is required to play this audio clip. Download the latest version here. You also need to have JavaScript enabled in your browser.
Mike Parr on BBC Tees, 18th December 2012
Audio clip: Adobe Flash Player (version 9 or above) is required to play this audio clip. Download the latest version here. You also need to have JavaScript enabled in your browser.
Julia Hartley-Brewer on LBC 97.3, 18th December 2012
Audio clip: Adobe Flash Player (version 9 or above) is required to play this audio clip. Download the latest version here. You also need to have JavaScript enabled in your browser.
Simon Hoban on BBC Radio Merseyside, 18th December 2012
Audio clip: Adobe Flash Player (version 9 or above) is required to play this audio clip. Download the latest version here. You also need to have JavaScript enabled in your browser.
Ian Timms on BBC Radio Cumbria, 19th December 2012
Audio clip: Adobe Flash Player (version 9 or above) is required to play this audio clip. Download the latest version here. You also need to have JavaScript enabled in your browser.
This 1,938th post was filed under: Photo-a-day 2012.