Warning: This post was published more than 5 years ago.
I keep old posts on the site because sometimes it's interesting to read old content. Not everything that is old is bad. Also, I think people might be interested to track how my views have changed over time: for example, how my strident teenage views have mellowed and matured!
But given the age of this post, please bear in mind:
My views might have changed in the 5 years since I wrote this post.
This post might use language in ways which I would now consider inappropriate or offensive.
Factual information might be outdated.
Links might be broken; embedded material might not appear properly.
Many thanks for your understanding.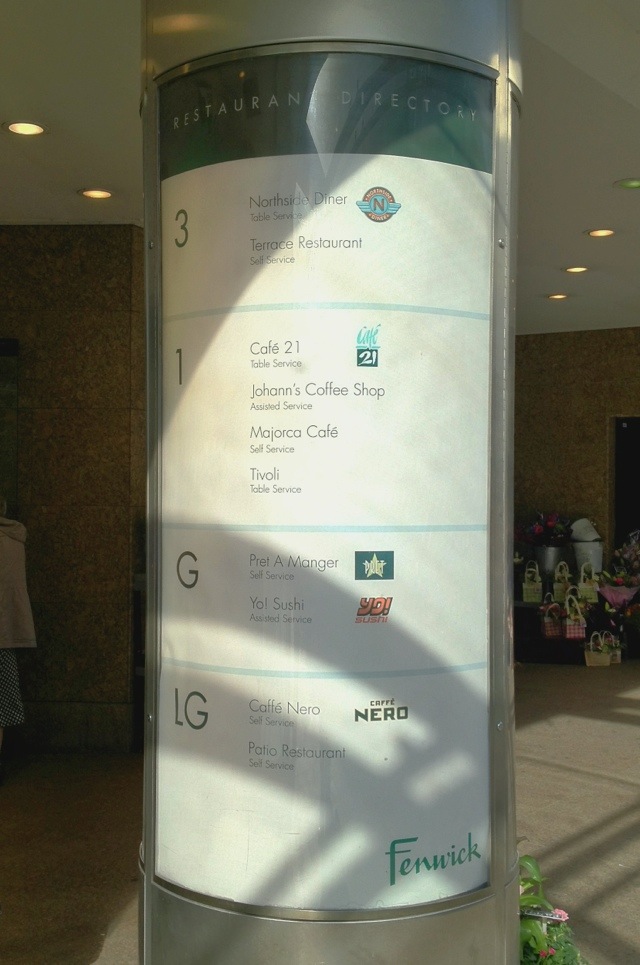 This is the "restaurant directory" outside the flagship store of the Fenwick chain on Newcastle's Northumberland Street. Listed are the ten restaurants in the store: the Northside Diner; the Terrace Restaurant; Café 21; Johann's Coffee Shop; the Majorca Café; Tivoli; Pret a Manger; Yo! Sushi; Caffé Nero; and the Patio Restaurant.
I reckon that ten restaurants within a single department store must be close to a record. I know that Harrods famously has 25 restaurants – not that I've counted and independently verified the claim – but I can't think of any UK department store other than Harrods or Fenwick with anywhere near ten. Can anyone else think of any?
Local legend has it that this branch of Fenwick is the most profitable branch of any department store chain in the UK. The Sunday Times Rich List is often the cited source of this information, but I can't see it under the Fenwick family's entry in any of the Rich Lists in the Times's archive, so I'm not absolutely convinced.
The flagship M&S virtually next door – which houses five restaurants of its own (an M&S Cafe, Kitchen, Restaurant, Deli and Food on the Go) – has a food hall which is frequently authoritatively cited as the chain's most profitable, so the claim about Fenwick isn't as outlandish as it might first appear.
Anyway, as interesting as all that is, I thought the picture was a bit rubbish. So here's a bonus one of the Gateshead Millennium Bridge now that the ugly bollards have been removed.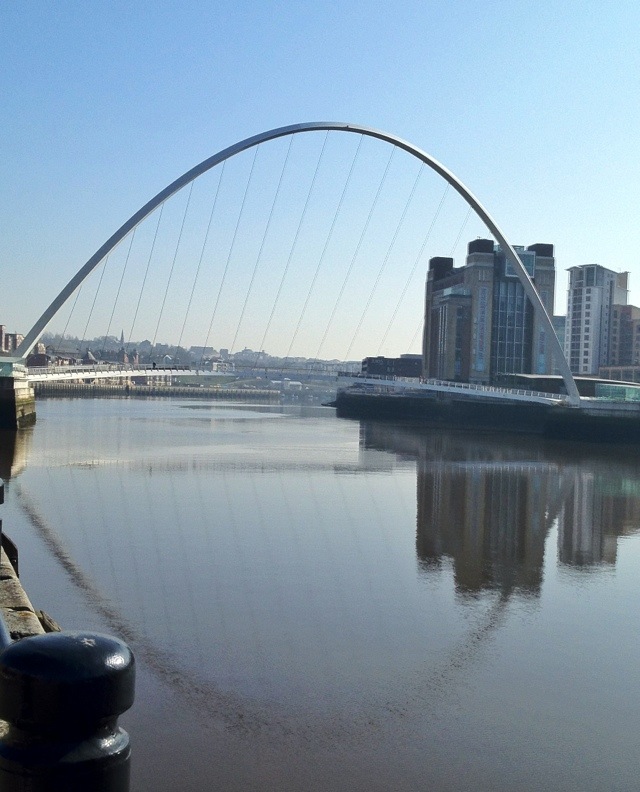 This 1,582nd post was filed under: Photo-a-day 2012, Architecture, Bridges, Fenwick, Gateshead, Newcastle-upon-Tyne, Retail.