Warning: This post was published more than 12 years ago.
I keep old posts on the site because sometimes it's interesting to read old content. Not everything that is old is bad. Also, I think people might be interested to track how my views have changed over time: for example, how my strident teenage views have mellowed and matured!
But given the age of this post, please bear in mind:
My views might have changed in the 12 years since I wrote this post.
This post might use language in ways which I would now consider inappropriate or offensive.
Factual information might be outdated.
Links might be broken; embedded material might not appear properly.
Many thanks for your understanding.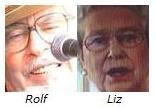 In one of the most bizarre royal stories I've seen for a while (and, let's face it, most royal stories are pretty odd), the Queen has chosen – of all the artists in the country – Rolf Harris, to paint her eightieth birthday portrait.
This decision has not gone down well in art circles. The editor of Modern Painters (a fascinating read, I'm sure) said "Oh God, how depressing". The Guardian's art critic: "You couldn't make it up"
But at least one observer's happy: Tracy Emin said it was "great for Rolf". Unfortunately, Rolf was more "overwhelmed" and worried he might "get stage fright and panic".
Really though, it's probably good for the Queen to be seen to be doing something 'fun', and connecting with the public a little. Though I'm not sure this is quite the way to do it.
This 581st post was filed under: News and Comment.