Warning: This post was published more than 12 years ago.
I keep old posts on the site because sometimes it's interesting to read old content. Not everything that is old is bad. Also, I think people might be interested to track how my views have changed over time: for example, how my strident teenage views have mellowed and matured!
But given the age of this post, please bear in mind:
My views might have changed in the 12 years since I wrote this post.
This post might use language in ways which I would now consider inappropriate or offensive.
Factual information might be outdated.
Links might be broken; embedded material might not appear properly.
Many thanks for your understanding.
Buckingham Palace said "this is not a snub" and added it was because "the prince and Mrs Parker Bowles wanted to keep the occasion low key".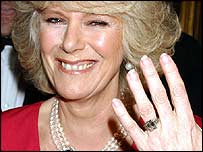 There's low key, and then there's your mum not coming. I don't think the former and the latter are equivalent. But for some reason I can't explain, this story has really been making me chuckle. Maybe I'm just very mean.
You just have to love this picture of the beautiful bride, though. Not the kind of picture you'd normally see just days after the royal couple have announced their engagement – I'd normally be expecting really nice pictures, at least until after the wedding. But this should clearly be captioned "Ahhhh! The hand of doom!". Or something like that, but wittier.
I particularly like this comment:
Historian Dr David Starkey said "one can only speculate on the reason" behind the Queen's decision.

"It could be security, that she doesn't approve, or that she doesn't care – a position which would unite her with the majority of her subjects," he added.
This 377th post was filed under: News and Comment.