Warning: This post was published more than 10 years ago.
I keep old posts on the site because sometimes it's interesting to read old content. Not everything that is old is bad. Also, I think people might be interested to track how my views have changed over time: for example, how my strident teenage views have mellowed and matured!
But given the age of this post, please bear in mind:
My views might have changed in the 10 years since I wrote this post.
This post might use language in ways which I would now consider inappropriate or offensive.
Factual information might be outdated.
Links might be broken; embedded material might not appear properly.
Many thanks for your understanding.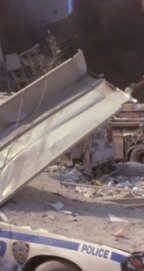 Yesterday was the sixth anniversary of '9/11'. After 9/11, Jon Stewart gave a speech to open The Daily Show, a speech which I posted here back in June 2006.
Such is the power of the speech that yesterday tens of blogs linked to it on this site, providing over 130,000 extra hits, and propelling it comfortably to the top of the 'most popular posts' league. When a speech that is six years old can still generate this kind of response, it surely must be a great speech.
What a shame that politicians have moved so far from their people that it was left to a comedy newsreader to truly speak to the nation in the face of its greatest tragedy in many generations.
This 1,211th post was filed under: Exams, Headliner, Politics.