Warning: This post was published more than 10 years ago.
I keep old posts on the site because sometimes it's interesting to read old content. Not everything that is old is bad. Also, I think people might be interested to track how my views have changed over time: for example, how my strident teenage views have mellowed and matured!
But given the age of this post, please bear in mind:
My views might have changed in the 10 years since I wrote this post.
This post might use language in ways which I would now consider inappropriate or offensive.
Factual information might be outdated.
Links might be broken; embedded material might not appear properly.
Many thanks for your understanding.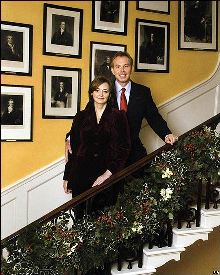 I don't mean to be flippant, but I think I'm glad I'm not on the Blairs' Christmas card list if it meant I had to display this… err… monstrosity in my home. I wonder if anyone who receives one will send one back with a picture of themselves on the stairs? It's really quite bizarre.
Well, not quite so bizarre as the new 'cuddly' Mr Brown's Christmas card of cartoon children – quite wisely called 'interesting' by Mr Blair. I would say that Mr Brown should stop trying to rebrand himself, but watching him make a prat of himself is too much fun.
Mr Cameron has yet to release his Christmas card. This is an interesting moment. How will he marry sending chunks of dead tree through an antiquated postal system with his pledges to be 'green' and 'modern'? I'm assuming the cards will be made of recycled paper or something, but perhaps he'll go a step further and send e-cards instead. It'd certainly grab a few headlines, and wouldn't harm the financial situation either. But there's always a chance it could swing the wrong way, and he could be called 'miserly'.
I expect we shall soon find out.
This 1,005th post was filed under: News and Comment, Politics.