Warning: This post was published more than 12 years ago.
I keep old posts on the site because sometimes it's interesting to read old content. Not everything that is old is bad. Also, I think people might be interested to track how my views have changed over time: for example, how my strident teenage views have mellowed and matured!
But given the age of this post, please bear in mind:
My views might have changed in the 12 years since I wrote this post.
This post might use language in ways which I would now consider inappropriate or offensive.
Factual information might be outdated.
Links might be broken; embedded material might not appear properly.
Many thanks for your understanding.
Today's swing figure:
» 2.25% swing to the Conservatives «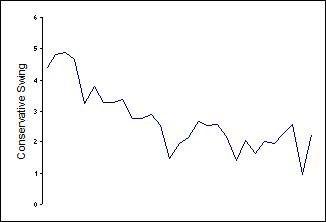 It's my final update! The graph on the right shows the swing figure as it has fluctuated over the past twenty-eight days. There are four new polls today: ICM/Guardian on 38/32, NOP/Independent on 36/33, Populus/Times 38/32, and YouGov/Telegraph on 37/32. They all agree that there is a Labour lead, but they are also rather more muted leads than we've seen published over the last few days, which has obivously given the Conservatives a bit of a boost in today's figure. The Lib Dems are certainly flying high, which is a good thing.
Looking back, it's quite incredible how badly the Conservative campaign has gone – right at the beginning, we looked like we were heading towards a hung Parliament, and as they have told us more about themselves, the polls have clearly plummetted – or, rather, the Labour vote has grown whilst the Tories have been pretty close to flat-lining.
The magic formula's current swing figure is suggestive of a Labour majority of around 120ish. My official prediction, however, defies this…
I predict that around 370-380 seats will be won by Labour (a loss of about 30, majority of roughtly 100 to 110), 185 to 195 for the Tories (gain fo about 25), and 60-70 for the Lib Dems (gain of around 15).
That's my prediction… Come back on Friday to laugh at how wrong I am!
This 562nd post was filed under: Election 2005.