Warning: This post was published more than 10 years ago.
I keep old posts on the site because sometimes it's interesting to read old content. Not everything that is old is bad. Also, I think people might be interested to track how my views have changed over time: for example, how my strident teenage views have mellowed and matured!
But given the age of this post, please bear in mind:
My views might have changed in the 10 years since I wrote this post.
This post might use language in ways which I would now consider inappropriate or offensive.
Factual information might be outdated.
Links might be broken; embedded material might not appear properly.
Many thanks for your understanding.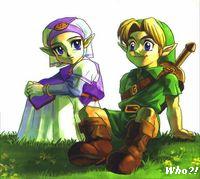 Edge has released a list of the Top 100 computer games of all time.
I've only ever played four of them. I haven't ever heard of most of them: What the hell is "Legend of Zelda: Ocarina of Time"? Who or what are "Ico", "Okami", "Shenmue" and "Ikaruga"? Is there really a game called "Geometry Wars"? No, I don't really want to know.
Give me a quiz game or a business sim over this lot any day.
Is this proof that I'm not a computer geek and all the monitor nerds will shun me forever? Or the exact opposite?
This 1,176th post was filed under: Media.