Warning: This post was published more than 11 years ago.
I keep old posts on the site because sometimes it's interesting to read old content. Not everything that is old is bad. Also, I think people might be interested to track how my views have changed over time: for example, how my strident teenage views have mellowed and matured!
But given the age of this post, please bear in mind:
My views might have changed in the 11 years since I wrote this post.
This post might use language in ways which I would now consider inappropriate or offensive.
Factual information might be outdated.
Links might be broken; embedded material might not appear properly.
Many thanks for your understanding.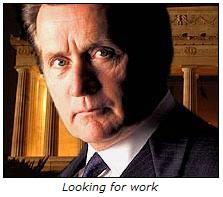 For those of you, like me, who are having difficulty coming to terms with the fact that the seventh season of the West Wing will be the last, you may be heartened to know that today's G2 has a couple of articles (here and here) about the show's demise. And me being somewhat behind, it means I still have 36 episodes still to go. But with 118 gone already, that's no so comforting.
There's rumours flying around all over the place, though, that the final episode will give a proper send-off to the late John Spencer, which would be right and fitting. Some would says it's too late, and that the show should have ended when Sorkin left, but I say The West Wing still can die with dignity. Let's hope it does.
This 807th post was filed under: Media, Reviews.