I've long told myself that I don't enjoy short stories.
When I mentioned this in a review I wrote in May, it set me wondering: why?
On reflection, there was plenty of evidence to the contrary. For every The Beautiful Indifference I'd struggled through, there's was a Difficult Loves or a One More Thing that were memorably enjoyable. I came to the conclusion that I had formed an utterly irrational prejudice against the short story.
---
Later that month, I came across Faber Stories, a collection of twenty tiny handsome books published in celebration of Faber & Faber's 90th anniversary. Each minature volume contained a short story from Faber & Faber's archive.
I was intrigued. Here was an opportunity to challenge my prejudice while also getting a set of lovely little books to decorate my bookshelves. Somewhat rashly, I bought the lot.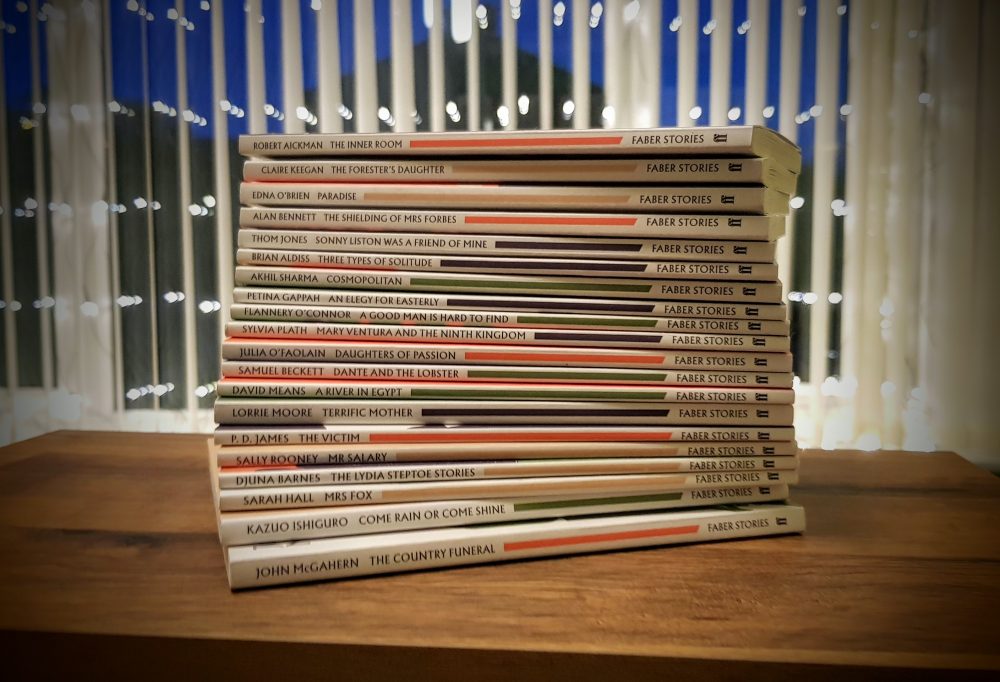 Over the last seven months, I've read all twenty.
In a nod to a bit of quantitative analysis, the mean number of stars I've given the books on Goodreads (out of a possible five) is 3.05. My average for all the books I read in 2018 was 3.80, so it seems that this set didn't reach my usual level of enjoyment.
Of course, this isn't surprising: I usually pick books I like the look of. In this case, I took the whole job lot of a series, whether I liked the look of each individual volume or not. It is to be expected that the average score would be lower. And there were some real stinkers: I gave eight of the books one- or two-star reviews.
On the other hand, I gave seven of the books four- or five-star reviews:
Five of these were written by authors I'd never read before. That's a pretty good outcome in terms of discovering new writers whose work I enjoy.
I've also been reminded, partly the single story format, of the joy of reading a complete work in a single sitting. I've come to better appreciate the precision and concision required to tell a story in short form.
---
In short, I think I've been cured of my prejudice. I'm no longer someone who doesn't like short stories. So much so, in fact, that I've already ordered the additional ten volumes that Faber & Faber announced over the summer.
But now I'm asking myself: what other literary prejudices shall I tackle? I'm no fan of science fiction or historical fiction, so perhaps I should look out for some examples of either of those to challenge myself.
---
The picture in this post is my own photo – as you can tell. If the spines are making you wonder about the jacket designs, there's a great article on the Faber & Faber blog about that.
This post was filed under: Reviews, Alan Bennett, BJ Novak, David Means, Djuna Barnes, Faber & Faber, Faber Stories, Italo Calvino, Kazuo Ishiguro, Lorrie Moore, Samuel Beckett, Sarah Hall, Sylvia Plath.