Hold up! Before you read on, please read this...
This post was published more than 12 years ago
I keep old posts on the site because I often enjoy reading old content on other people's sites. It can be interesting to see how views have changed over time: for example, how my strident teenage views have, to put it mildly, mellowed.
I'm not a believer in brushing the past under the carpet. I've written some offensive rubbish on here in the past: deleting it and pretending it never happened doesn't change that. I hope that stumbling across something that's 12 years old won't offend anyone anew, because I hope that people can understand that what I thought and felt and wrote about then is probably very different to what I think and feel and write about now. It's a relic of an (albeit recent) bygone era.
So, given the age of this post, please bear in mind:
My views may well have changed in the last 12 years. I have written some very silly things over the years, many of which I find cringeworthy today.
This post might use words or language in ways which I would now consider inappropriate, offensive, embarrassing, or all three.
Factual information might be outdated.
Links might be broken, and embedded material might not appear properly.
Okay. Consider yourself duly warned. Read on...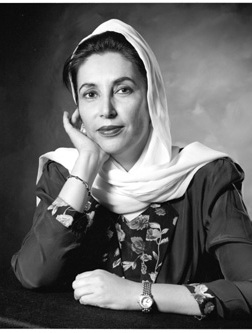 Even days after the assassination of Benazir Bhutto, the impact for the homeland she loved so dearly is still far from clear.
The tragedy of her death is certain: A 54 year-old who had spent much of her life fighting for true citizen-led democracy in Pakistan silenced not through reasoned argument but through mindless violence. The first female leader of an Islamic nation in modern history killed whilst trying to improve life for her fellow citizens. Her three children left without a mother, her husband without a wife.
I only hope that the violence of the last two days in Pakistan is short-lived, and that people will continue in her tradition of arguing eloquently, powerfully, and persistently for true representation of the people of Pakistan and against dangerous extremism.
A full and detailed obituary for Benazir Bhutto is available on Guardian Unlimited or BBC News.
May she rest in peace.
This 1,240th post was filed under: News and Comment.