Hold up! Before you read on, please read this...
This post was published more than 12 years ago
I keep old posts on the site because I often enjoy reading old content on other people's sites. It can be interesting to see how views have changed over time: for example, how my strident teenage views have, to put it mildly, mellowed.
I'm not a believer in brushing the past under the carpet. I've written some offensive rubbish on here in the past: deleting it and pretending it never happened doesn't change that. I hope that stumbling across something that's 12 years old won't offend anyone anew, because I hope that people can understand that what I thought and felt and wrote about then is probably very different to what I think and feel and wrote about now. It's a relic of an (albeit recent) bygone era.
So, given the age of this post, please bear in mind:
My views may well have changed in the last 12 years. I have written some very silly things over the years, many of which I find utterly cringeworthy today.
This post might use words or language in ways which I would now consider highly inappropriate, offensive, embarrassing, or all three.
Factual information might be outdated.
Links might be broken, and embedded material might not appear properly.
Okay. Consider yourself duly warned. Read on...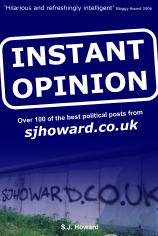 Today is my 'blogging birthday'.
It's four years since I started blogging with this post on The LBSC. And since then, I haven't stopped.
To mark the occassion, thanks to the genorosity, confidence, and support of the team at Lulu Publishing, I'm launching a book containing over 100 of the 'best' political posts featured on the site.
I had hoped that the book would be published today, but unfortunately a hold-up at the distributor means that it's not quite ready – but it will be available both online and through your local bookstore within the next few days.
It will also be available internationally, so my large cohort of US readers needn't miss out. And if you are some kind of paper-shunning eco-warrior, there will be an ebook version published simultaneously. And readers of this site will exclusively be able to get their hands on copies before the book goes on general release. There's a little bit more information for you here.
In the time sjhoward.co.uk has been around, it's received more than six-and-a-half million hits – of which almost two-and-a-half million have occurred in 2007 alone. The site has won awards, been featured all over the place, and received over a thousand contributions from its readers.
So thank you for reading, thank you for contributing, and thank you for your ongoing support. As they say in the USA, here's to "Four more years!".
This 1,124th post was filed under: Site Updates.