Hold up! Before you read on, please read this...
This post was published more than 12 years ago
I keep old posts on the site because I often enjoy reading old content on other people's sites. It can be interesting to see how views have changed over time: for example, how my strident teenage views have, to put it mildly, mellowed.
I'm not a believer in brushing the past under the carpet. I've written some offensive rubbish on here in the past: deleting it and pretending it never happened doesn't change that. I hope that stumbling across something that's 12 years old won't offend anyone anew, because I hope that people can understand that what I thought and felt and wrote about then is probably very different to what I think and feel and wrote about now. It's a relic of an (albeit recent) bygone era.
So, given the age of this post, please bear in mind:
My views may well have changed in the last 12 years. I have written some very silly things over the years, many of which I find utterly cringeworthy today.
This post might use words or language in ways which I would now consider highly inappropriate, offensive, embarrassing, or all three.
Factual information might be outdated.
Links might be broken, and embedded material might not appear properly.
Okay. Consider yourself duly warned. Read on...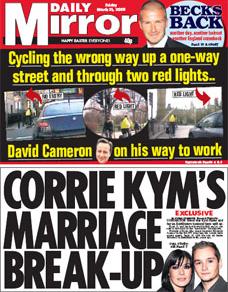 In today's complex world, it can become difficult to know who's supporting who, which way the political wind is blowing, and who to believe when it comes to news reportage. Take The Daily Mirror, for example.
It is often asked why The Mirror performs so relatively poorly compared to it's long-time rival, The Sun, which is the most popular and far-and-away the most politically powerful paper in the UK. There's not a person in Westminster who is unaware of what 'The Sun Says' on any given issue, yet The Mirror is largely ignored.
Before every general election, the politically complex Sun is fought over by Labour and the Conservatives, desperate to secure the support of Rupert Murdoch and hence the paper, thus receiving a huge boost to the electoral campaign. The Mirror is always left behind.
So, in these difficult times, it can be hard to follow quite who The Mirror is supporting at any one time.
Take today's paper, for example. The front page story? A relatively extensive report on minor traffic violations by David Cameron on a bike. Frankly, not a dissimilar level of reportage to that when Tony Blair became the first serving Prime Minister to be interviewed by police, that time in relation to very serious charges.
And on the inside pages? Gordon Brown expresses his love for the 'misunderstood' Amy Winehouse, Coldplay, U2, and Leona Lewis: He's really "down with the kids". It's Cool Britannia Mark II, and even less believable than the first time round.
I'm well aware that newspapers have always had political allegiances, but this particular juxtaposition struck me as so utterly ridiculous as to be worthy of comment.
» Image Credit: The Daily Mirror's front page, 21st March 2008.
This 1,288th post was filed under: Media, News and Comment, Politics.