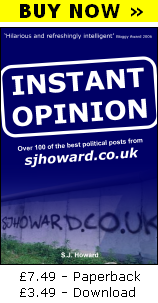 Instant Opinion, the new book collecting together over 120 of the best political posts from this very website, is available for readers of this site to order now. It will go on general release in bricks-and-mortar bookstores and also at online bookstores within the next few weeks, but pre-release copies are available direct from the publisher right now.
The book is available in paperback, for delivery around the world, and also in a snazzy ebook format. It's 260 pages long, and covers a diverse range of political topics – as well as a few of the best non-political posts thrown in at the back. You can see a preview of the book here, order it here, or read more about it on the special page at instantopinion.co.uk.
Get 'em while they're hot: Grab your copy now!
This post was filed under: Site Updates.