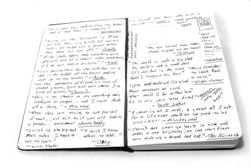 Photo by Paul Watson, modified under licenceThe experiment in mini-posts seems to have worked well, and has received positive feedback from readers whilst being very easy for me to use. I therefore intend to continue with it.
As you may have already noticed, I've made some changes to the display of the posts to give them a more permanent identity, as I felt that having a screaming headline format didn't really work for the mini-posts. For that reason, I've renamed them 'My Diary', and given them their own special design, which I feel works rather well – and I hope you do too.
Let me know what you think, keep commenting, and help the very discussion to thrive.
This post was filed under: Site Updates.