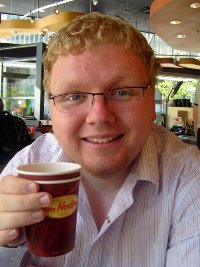 Hi, I'm Simon, and I have a problem. Or a blog. One or the other. Possibly both. Let me answer some questions…
Who Are You?
I'm several people. Or, at least, have had several different occupations over the life of this blog.
Back in May 2003, when all this began, I was an 18 year old A-Level student studying in the North West of England. In October 2003, I moved to the North East to study medicine. In June 2008, I qualified, and spent the next two years working in the hospitals of Newcastle upon Tyne… including a few months in General Practice. Right now, I'm working as a Public Health Specialist Registrar in the North East of England.
When I'm not trying to stop people getting ill, I'm spouting drivel about politics on this site, doing freelance writing elsewhere (hire me!), selling my book, lurking on social networking sites, being pseudonymous, reviewing book proposals and early drafts for a major publishing house, or drinking tea. I also do bits for the excellent Pod Delusion podcast.
I've also recently worked as one of the magical elves behind AQA 63336 – a fantastic job, and a brilliant service which I still use to this day. Give them a go sometime… for free, if you want.
If you glance through the archives, you'll note that I once worked for the DIY chain Homebase, too. Clad in their delightful orange and green uniform, I advised people on their wallpaper and paint combinations – despite colourblindness. Now that's equal opportunities.
Do You Want Some Money? Do You Want to Review Our Product?
I'm more than willing to write for money, often willing to write for nothing, and always willing to accept money for nothing. Reviews frequently appear on the site, and so I may well be willing to write one for you – get in touch with a proposal.
Where Did This Site Come From?
My first 'proper' website appeared on the web in 1997, and was once featured on a programme on BBC Radio 3 – primarily because I presented part of it. There's a claim to fame.
For a while, I went through every web-based fad going – including a pretty dire Flash phase – eventually settling on the domain name simonhoward.co.uk for my experiments, which initially went by the name of 'SiSite'. A frighteningly bad period as heavily framed website 'Network S' followed, before changing simply to 'simonhoward.co.uk' in 2000. In 2002, I got very excited as I'd racked up 5,000 hits over the course of several years.
In 2003, I was convinced to start participating in a new-fangled 'blog', along with several other teenage writers, called 'The LBSC'. This took on a life of it's own for a while, and became mildly popular in a cultish sort of way. At the same time, I lost the rights to the simonhoward.co.uk domain, so moved my own website to sjhoward.co.uk ('John' being my middle name).
In late 2004, the LBSC died following a nasty fall. So, on Christmas Day 2004, I decided to go it alone, porting my posts from the LBSC over to the sjhoward.co.uk domain, and continuing to blog, initially on the Blogger platform.
Over the next sixth months or so, I moved across to WordPress (and never looked back), and the site design pretty much settled into something not dissimilar to its appearance today.
Since then, my writing has continued to develop, and the site has continued to grow in popularity, now receiving an average of over 10,000 hits per day, rather than 5,000 over a few years! The site has grown in size, too, to over 2,500 pages, with everything from bits of academic work to funny videos. It's spawned manifest spin-offs from its own book to its own bookshop.
So why am I still at it, after all this time? I think I answered that pretty well here:
I blog primarily because I enjoy writing, and it allows me to rationalise my thinking about current affairs. If I decide to write about something, then I have to think and form a rational opinion on the subject, rather than just mulling it over. It's good for the brain, and good for the soul. If someone then comes along and reads these things what I write, then that's a bonus
You're a freelance writer? Will you write for me?
Let's talk! Get in touch and I'll have a look at your proposal – and we'll take it from there.
Where did the cloud background come from?
It's a photo a took myself in Drumheller, Alberta, during the summer of 2007. I added it as a background to the site in September 2009. If you're using Internet Explorer 6 or below, you'll be wondering what on Earth I'm talking about… Upgrade your browser to find out.
Who is Tilly O'Shea?
I'm glad you asked. There's a whole page of the Tilly O'Shea story. And it even has pretty pictures.
Are you secretly a Tory blogger?
One of the most bizarre questions I've been asked. The answer is 'no'. I have no connection with the Conservative Party, nor any other Party for that matter, and I'm not in any way attempting to use this blog to support one Party's politics. I'm the very definition of 'independent'.
Help! I desperately need to know your favourite colour!
It's blue.
Will you link to me?
If you write something interesting and worthy of attention it might appear in the 'Stuff I Read and Liked' column on the right, and on the accompanying page. If it's really interesting, I might write a piece about it. Otherwise, almost certainly not.
Can I steal stuff from your site?
Maybe, maybe not. Check the Copyright Policy, and get in touch for more info.
Getting in touch
If you have any other questions, there are loads of ways to contact me, all of which are listed in the site guide. But the easiest way is probably to email me.