Hold up!
See that little date above?
This post was published years ago.
My opinions have changed over time: I think it's quite fun to keep old posts online so that you can see how that has happened. The downside is that there are posts on this site that express views that I now find offensive, or use language in ways I'd never dream of using it today.
I don't believe in airbrushing history, but I do believe that it's important to acknowledge the obvious: some of what I've written in the past has been crap. Some of it was offensive. Some of it was offensively bad. And there's may be some brass among the muck (you can make up your own mind on that).
Some of what I've presented as my own views has been me—wittingly or unwittingly—posturing without having considered all the facts. In a few years, I'll probably think the same about what I'm writing today, and I'm fine with that. Things change. People grow. Society moves forward.
The internet moves on too, which means there might be broken links or embedded content that fails to load. If you're unlucky, that might mean that this post makes no sense at all.
So please consider yourself duly warned: this post is an historical artefact. It's not an exposition of my current views nor a piece of 'content' than necessarily 'works'.
You may now read on... and in most cases, the post you're about to read is considerably shorter than this warning box, so brace for disappointment.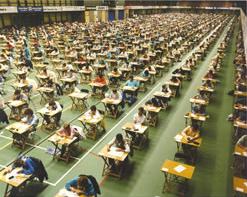 It's the story we never hear in the media. 75% of 18-year-olds have just failed to get three passes (grade E or above) at A-Level. Popular opinion, mainly thanks to the media, has it (in a survery I can't find again to link to) that over 80% of 18-year-olds reach this standard. Bollocks. The vast, vast majority of the young people in our country don't even attempt A-Levels, let alone pass them.
Let's talk, me and you, about one of the most respected, classical subjects at A-Level: History. Of the 375,000 18-year-olds in the country, the top 13% sat an A-Level in the subject. Frankly, these days, that's an acheivement. Schools no longer enter people they don't think will do well, because it damages their league table results and ultimately affects funding, which is why 87% of the population don't get to take it. So it is fair to say that the 13% of youngsters sitting the History A-Level are the top historians of their age in the land. Well done.
10.9% of the 18-year-olds in this country passed that A-Level. We've weeded out 89.1% of the population – hundreds of thousands of people – without even looking at grades. But if we choose to look at that top 'A' grade, we find that just 2% of the population managed to achieve it. 98% didn't.
In chemistry, only 9% of the population passed, with under 2% acheiving the top grade. For maths, the top 13% were entered, and the top 3% got A's. And for the much lamented media studies, 7% were entered and just 1.5% got A's.
People say that A-Levels are easy, worthless, and don't discriminate anymore. Yet the vast majority don't pass them, and our example shows that very few reach the top grades. How much more discriminating would you like them to be?
This post was filed under: News and Comment.