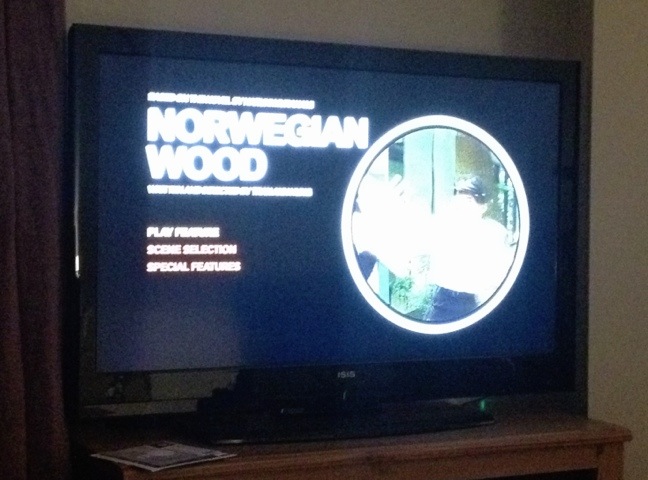 It's probably cheating to take a photo of the TV, but I really have nothing more exciting to offer today. I've just watched Norwegian Wood, having read the book some years ago. I could've sworn that I'd written a review of the book on here at some point – but if I did, I certainly can't find it this evening.
I do remember enjoying the book – or books, I guess, since it came in two volumes – and, indeed, it appears to be listed as one of my favourites on Facebook. In retrospect, I'm not certain I enjoyed it as much as classics like Catch 22 or If on Winter's Night a Traveller, mainly because as I sat down to watch the film my memory of the plot was sketchy to say the least. But I guess it must have made an impression whenever I was writing that list.
The film was alright, though featured a lot more sex and discussions about sex than I recall from the novel, and felt a bit less existential. But heck, I'm no film critic. I happily sat through it from beginning to end, got quite caught up in it, thought it was worth writing about here. So I guess it must have been quite good.
I'll try and feature something altogether more interesting tomorrow!
This 1,546th post was filed under: Photo-a-day 2012, Films, Norwegian Wood.