Hold up! Before you read on, please read this...
This post was published more than 6 years ago
I keep old posts on the site because I often enjoy reading old content on other people's sites. Not everything that is old is bad. It can be interesting to see how views have changed over time: for example, how my strident teenage views have mellowed and matured.
But given the age of this post, please bear in mind:
My views might very well have changed in the 6 years since I wrote this post. I have written some very silly things over the years, many of which I find pretty embarrassing today.
This post might use language in ways which I would now consider highly inappropriate or offensive.
Factual information might be outdated.
Links might be broken; embedded material might not appear properly.
Okay. Consider yourself duly warned. Read on...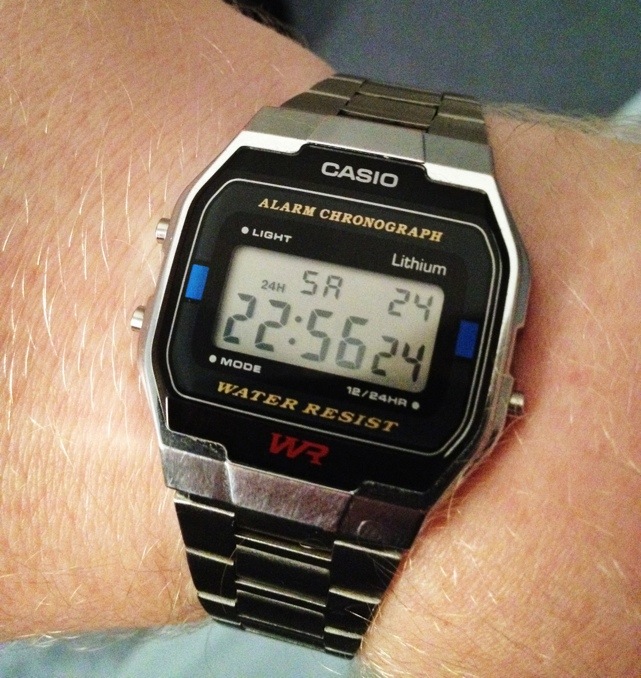 I'm just about to put this watch forward an hour, as we move onto British Summer Time.
This is the watch I wear most days. I wear it on my right wrist, which I know is classically bad form. It's very similar to the Casio F91Ws I used to wear as a child, and there's something comforting in the familiarity of it.
I was slightly caught out by this watch on 29th February: it's assertion that it was 1st March had me fooled for most of the morning! It slightly amuses me that my digital watch can't cope with the leap year, but my dressier analogue watch recalls it almost perfectly – it works in four-year cycles, so can't cope with the more detailed finesse of the leap-year system.
This 1,580th post was filed under: Photo-a-day 2012, Casio, watches.