Hold up!
See that little date above?
This post was published years ago.
My opinions have changed over time: I think it's quite fun to keep old posts online so that you can see how that has happened. The downside is that there are posts on this site that express views that I now find offensive, or use language in ways I'd never dream of using it today.
I don't believe in airbrushing history, but I do believe that it's important to acknowledge the obvious: some of what I've written in the past has been crap. Some of it was offensive. Some of it was offensively bad. And there's may be some brass among the muck (you can make up your own mind on that).
Some of what I've presented as my own views has been me—wittingly or unwittingly—posturing without having considered all the facts. In a few years, I'll probably think the same about what I'm writing today, and I'm fine with that. Things change. People grow. Society moves forward.
The internet moves on too, which means there might be broken links or embedded content that fails to load. If you're unlucky, that might mean that this post makes no sense at all.
So please consider yourself duly warned: this post is an historical artefact. It's not an exposition of my current views nor a piece of 'content' than necessarily 'works'.
You may now read on... and in most cases, the post you're about to read is considerably shorter than this warning box, so brace for disappointment.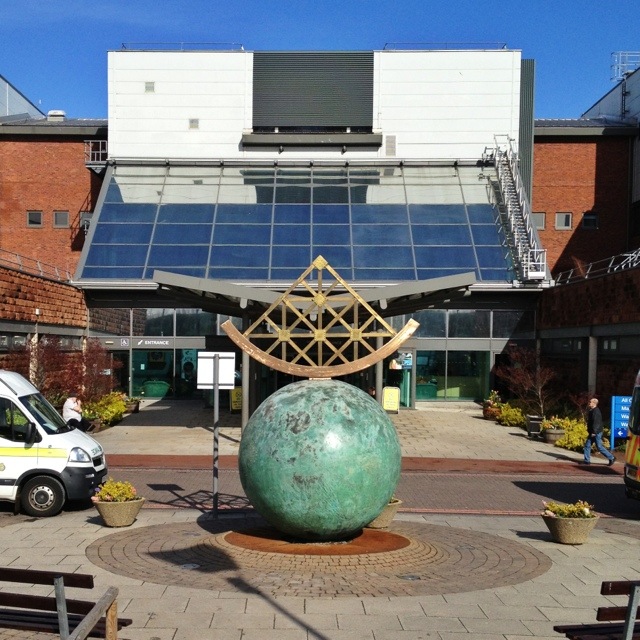 This is "Cook's Earth", Andrew Burton's globe and sextant sculpture outside the South entrance to the James Cook University Hospital in Middlesbrough, where I had a meeting this morning. I also did a few of my medical school rotations here.
It, of course, commemorates everybody's favourite 18th century Middlesborian*, the seafaring discoverer of Australia. The globe used to be more clearly globe-like, with a blue sea, but that seems to have washed off. A replica of his most famous ship is down the road in Stockton, as I showed back in January.
James Cook's violent death is captured in a famous Zoffany painting; so perhaps it's appropriate that the hospital named after him is leading the country as a regional specialist trauma centre. Although, given the number of areas in which the hospiral's highly respected, it's hard to think of a mode of death for Captain Cook that would preclude me from drawing a tenuous link…!
*Marton, where James Cook was born and his eponymous hospital stands, was actually considered a village in Yorkshire in the 18th century, rather than a suburb of Middlesbrough, so I guess whether or not he was Middlesborian is a bit of a philosophical question!
This post was filed under: Health, Photo-a-day 2012, Art, James Cook, Middlesbrough.