Hold up! Before you read on, please read this...
This post was published more than 12 years ago
I keep old posts on the site because I often enjoy reading old content on other people's sites. Not everything that is old is bad. It can be interesting to see how views have changed over time: for example, how my strident teenage views have mellowed and matured.
But given the age of this post, please bear in mind:
My views might very well have changed in the 12 years since I wrote this post. I have written some very silly things over the years, many of which I find pretty embarrassing today.
This post might use language in ways which I would now consider highly inappropriate or offensive.
Factual information might be outdated.
Links might be broken; embedded material might not appear properly.
Okay. Consider yourself duly warned. Read on...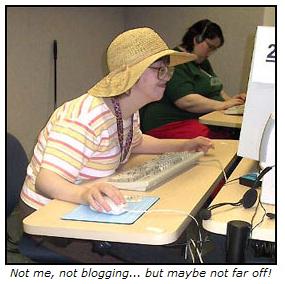 It's one of those questions that troubles many bloggers. The temptation, particularly when one starts blogging, is to post daily. I resisted that temptation primarily because I started out on a group blog, but there was a definite period when I first moved over here to sjhoward.co.uk that I posted very frequently – just look at the number of posts in January 2005 compared to January 2006. But I don't think I've ever posted merely for the sake of posting daily. Back then, the site was new and fresh, I had a lot to say, and a lot of time to say it. Just recently, life has been getting in the way of posting more regularly – there are many things I'd like to post about, and indeed many posts I start and never finish because I don't always have the time when I'm working 13 hour days.
Eric Kintz reckons that posting too regularly is damaging to a blog's brand. I don't think I'm in any danger of posting too frequently right now, and it would appear that that's a good thing. Others would say that failing to post daily means that readers lose interest in the blog, and readership dips. That's certainly not been the case here. January 2006 generated three times the hits that January 2005 did, and the site is now riding a high greater than ever before, with monthly hits way into the hundreds of thousands.
So how do I decide how often to post? I don't. I simply write on here when I feel I've something interesting to say and the time to sit down and type it. There's no scientific analysis of the best time of the day to post to gain readership, nor the frequency of posting that generates the most interest. It just fits in with my life.
It's much the same system as what I post about – I post what I want to write, not necessarily what people want to read. Just recently, there's been quite a few relatively parochial posts like this one, focusing on how I run the site. They can't be of much interest to many people, but it's good to get off my chest and put down in words the way I think I do things. I find it really rather cathartic to express myself in this way. If I didn't, I've no doubt that the site would be mothballed by now.
Perhaps that's the great unwritten rule about blogs: Write for yourself, not for anyone else. That way, you are the sole judge of your own success, and you can never truly fail.
This 895th post was filed under: Blogging.