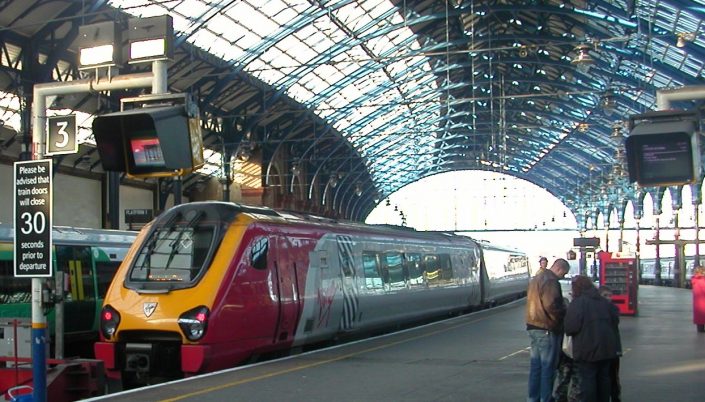 I usually try to avoid 'grumpy' columns in magazines. As a general rule, they are not very interesting and are not nearly as funny as the author intends. Turning a 'moan' into interesting writing is a tricky skill to pull off.
All of that aside: In 1843 magazine, Adrian Wooldridge recently wrote about irritating announcements on public transport:
Some companies seem to revel in redundancy. In the railway world Amtrak is the champion of verbosity. Recorded announce­ments on its trains proclaim the arrival of each station with a peroration ending in a request to "please take this time to look about you and collect your bags", as though the majority of passengers were otherwise likely to canter off the train in a spiritual ecstasy, leaving their material possessions in their wake.
This complaint touched a nerve. When I was commuting to London on a weekly basis a few years ago, there was one particular train guard whose name became lodged in my memory, so annoying were his announcements. His tone tended to convey a weary sense of superiority: it was with some mild irritation that he reminded passengers to check that their tickets were valid for this particular service, as though only a moron could be confused. He spoke extremely slowly, as though he had been told in training not to speak too fast and had overcorrected. And, most irritatingly of all, he seeemed intent on lengthening every announcement to the greatest possible extent by including superfluous words.
Peterborough would never be the 'next stop'; it would inevitably be 'the next station stop at which our service will be calling this morning'. Passengers should not merely content themselves with 'reading the displayed safety instructions'; rather they should 'be sure to fully familiarise themselves with the safety information cards displayed on the walls of the vestibules at the end of every carriage on board this service'. Customers should not simply 'have tickets ready for inspection'; they should 'be aware that a full ticket check will now take place in all coaches, starting from Coach B at the front of the train, and ensure that they have all tickets, travel documents and railcards to hand both at their seat and when moving around the train.'
The verbosity was almost too much to bear. So while I disagree with Adrian's preference for not knowing the names of service workers and wearing headphones through safety demonstrations on aircraft, I find it hard not to have a little sympathy with his complaints about excessively loquacious train guards.
---
As an aside, on a recent train journey, the guard issued the typical reminder that passengers should "take all of their personal belongings with them". Somebody loudly responded that this wasn't practical, as most of their personal belongings were at home rather than on a train. I'll laughed quite loudly, despite myself.
---
The image at the top is of a Virgin train at Brighton station. The full version was posted on Flickr by Matt Davis, and I've reproduced a cropped version here under its Creative Commons Licence.
This post was filed under: Posts delayed by 12 months, Travel, 1843, Adrian Wooldridge, Language, Public Transport, Trains.