Hold up! Before you read on, please read this...
This post was published more than 15 years ago
I keep old posts on the site because I often enjoy reading old content on other people's sites. It can be interesting to see how views have changed over time: for example, how my strident teenage views have, to put it mildly, mellowed.
I'm not a believer in brushing the past under the carpet. I've written some offensive rubbish on here in the past: deleting it and pretending it never happened doesn't change that. I hope that stumbling across something that's 15 years old won't offend anyone anew, because I hope that people can understand that what I thought and felt and wrote about then is probably very different to what I think and feel and write about now. It's a relic of an (albeit recent) bygone era.
So, given the age of this post, please bear in mind:
My views may well have changed in the last 15 years. I have written some very silly things over the years, many of which I find cringeworthy today.
This post might use words or language in ways which I would now consider inappropriate, offensive, embarrassing, or all three.
Factual information might be outdated.
Links might be broken, and embedded material might not appear properly.
Okay. Consider yourself duly warned. Read on...
Today's swing figure:
» 2.25% swing to the Conservatives «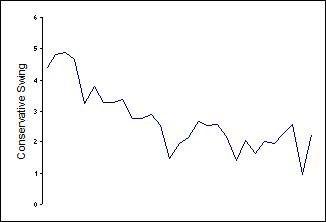 It's my final update! The graph on the right shows the swing figure as it has fluctuated over the past twenty-eight days. There are four new polls today: ICM/Guardian on 38/32, NOP/Independent on 36/33, Populus/Times 38/32, and YouGov/Telegraph on 37/32. They all agree that there is a Labour lead, but they are also rather more muted leads than we've seen published over the last few days, which has obivously given the Conservatives a bit of a boost in today's figure. The Lib Dems are certainly flying high, which is a good thing.
Looking back, it's quite incredible how badly the Conservative campaign has gone – right at the beginning, we looked like we were heading towards a hung Parliament, and as they have told us more about themselves, the polls have clearly plummetted – or, rather, the Labour vote has grown whilst the Tories have been pretty close to flat-lining.
The magic formula's current swing figure is suggestive of a Labour majority of around 120ish. My official prediction, however, defies this…
I predict that around 370-380 seats will be won by Labour (a loss of about 30, majority of roughtly 100 to 110), 185 to 195 for the Tories (gain fo about 25), and 60-70 for the Lib Dems (gain of around 15).
That's my prediction… Come back on Friday to laugh at how wrong I am!
This 561st post was filed under: Election 2005.