Hold up! Before you read on, please read this...
This post was published more than 11 years ago
I keep old posts on the site because I often enjoy reading old content on other people's sites. Not everything that is old is bad. It can be interesting to see how views have changed over time: for example, how my strident teenage views have mellowed and matured.
But given the age of this post, please bear in mind:
My views might very well have changed in the 11 years since I wrote this post. I have written some very silly things over the years, many of which I find pretty embarrassing today.
This post might use language in ways which I would now consider highly inappropriate or offensive.
Factual information might be outdated.
Links might be broken; embedded material might not appear properly.
Okay. Consider yourself duly warned. Read on...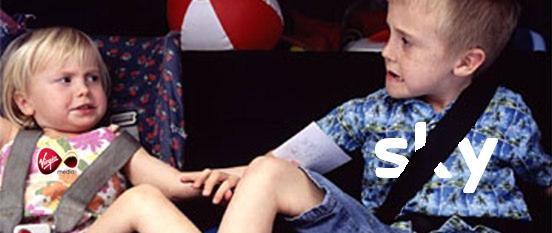 "Give me your channels!" / "No, you're not having them!" / "I'm telling mum!"
For those of you who've been living on the moon for the last few months, Sky's channels have been removed from the Virgin Media platform recently because the two companies have been unable to agree terms under which the channels should be carried. Virgin says that Sky's requested price is too high, and is refusing to pay it. It also says that Sky 'forced' them to accept a low offer for carriage of it's channels on Sky's platform.
Now, Virgin is taking Sky to court over the dispute.
My solution? The judge should get Richard Branson and Rupert Murdoch in the court, slap their legs, make them apologise, and sort out their differences.
This is the most ridiculous argument we've heard in a long time. This sort of dispute just wouldn't happen in any other business sphere? Can you imagine Tesco refusing to stock Heinz beans because they were making too many demands about product placement in the store? No. Heinz beans, like Sky channels, are popular, so not selling them would damage Tesco. Equally, Tesco is an important retailer, as Virgin is an important platform, and not having their beans on sale there would damage Heinz. In psychology terms, it's a simple choice between a vicious circle or a virtuous circle – and Virgin and Sky appear to be choosing the former.
This has not worked well for either of them. Virgin Media is unable to offer it's customers the best service, and people have cancelled as a result. Sky's channels are getting far fewer viewers – in fact, they've fallen out of the multichannel top five – damaging their advertising income. Both of them are being in terms of PR, and a court case will also be damaging to both of them – why on Earth would either of them want an investigation into a highly uncompetitive industry?
They need their heads banding together.
I no longer care whose fault this is. Just grow up and sort it out!
This 1,098th post was filed under: Media, News and Comment.