Hold up!
See that little date above?
This post was published years ago.
My opinions have changed over time: I think it's quite fun to keep old posts online so that you can see how that has happened. The downside is that there are posts on this site that express views that I now find offensive, or use language in ways I'd never dream of using it today.
I don't believe in airbrushing history, but I do believe that it's important to acknowledge the obvious: some of what I've written in the past has been crap. Some of it was offensive. Some of it was offensively bad. And there's may be some brass among the muck (you can make up your own mind on that).
Some of what I've presented as my own views has been me—wittingly or unwittingly—posturing without having considered all the facts. In a few years, I'll probably think the same about what I'm writing today, and I'm fine with that. Things change. People grow. Society moves forward.
The internet moves on too, which means there might be broken links or embedded content that fails to load. If you're unlucky, that might mean that this post makes no sense at all.
So please consider yourself duly warned: this post is an historical artefact. It's not an exposition of my current views nor a piece of 'content' than necessarily 'works'.
You may now read on... and in most cases, the post you're about to read is considerably shorter than this warning box, so brace for disappointment.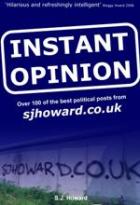 Instant Opinion is the new political paperback from sjhoward.co.uk. It contains the very best posts from four years of political blogging here on sjhoward.co.uk and on the sites that preceded it. The selection of over 120 posts covers topics from Tony Blair to the G8, and from the European Constitution to Robert Kilroy-Silk's political 'career'. There's even a little bit of new material in there, too.
The Official Blurb
S. J. Howard has been writing political commentary on the internet for the last four years.
Despite having never been involved in politics, and having no political qualifications, his writing has attracted a huge following, won awards, and been featured by major national outlets such as Channel 4 News.
Variously described as 'refreshing', 'articulate', and 'hilarious', S. J. Howard's writing regularly breathes new life into the world of British politics.
Over 100 of his best pieces are collected together in print for the first time, creating a unique snapshot of four years of political goings-on in the Mother of Parliaments in the 21st Century.
» A completely free preview of the book is available here.
Buying the Book in the UK
Instant Opinion is now available in all good bookshops, and most are offering a discount on the £7.49 RRP. Online stores selling the book include Amazon, Blackwells, WHSmith, and (of course) sjhoward.co.uk/shop.
You can also purchase the book direct from the publishers, from where you can also buy the exclusive ebook version for just £3.49.
For a preview of the book, click here.
Buying the Book Overseas
My publishers will deliver worldwide, and the book is also available on the overseas localisations of Amazon (eg Amazon.com, Amazon.ca).
Summary of the Facts
| | |
| --- | --- |
| Title | Instant Opinion |
| Author | S. J. Howard |
| ISBN-10 | 1847534465 |
| ISBN-13 | 978-1847534460 |
| Pages | 260 |
| RRP | £7.49 (many stores currently offering discounts) |
| Type | Paperback |
| Availability | Available from highstreet and online bookshops worldwide |
Chapter List
The Labour Party
The Conservative Party
The Liberal Democrat Party
The British Political System
The British Media
Education, Education, Education
Health and the NHS
Crime and Punishment
Terrorism
Iraq
European Politics
The G8
The Downfall of Tony Blair
Robert Kilroy-Silk
The Best of the Rest