Warning: This post was published more than 5 years ago.
I keep old posts on the site because sometimes it's interesting to read old content. Not everything that is old is bad. Also, I think people might be interested to track how my views have changed over time: for example, how my strident teenage views have mellowed and matured!
But given the age of this post, please bear in mind:
My views might have changed in the 5 years since I wrote this post.
This post might use language in ways which I would now consider inappropriate or offensive.
Factual information might be outdated.
Links might be broken; embedded material might not appear properly.
Many thanks for your understanding.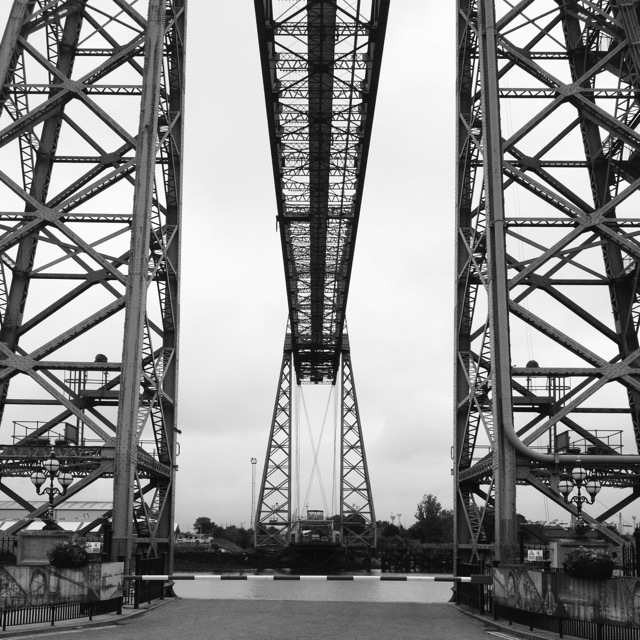 As I'm coming to the end of my time working on Teesside, I think it would be impossible to leave without featuring one of the most iconic sights of the area: the Tees Transporter Bridge. The photo below might give a more familiar view, but it's very difficult to fit the bridge into a single frame when this close up!
The bridge was built 101 years ago, and remains in perfect working order. It is the world's largest operational transporter bridge, and it carries people and vehicles along the A178, connecting Middlesbrough to Port Clarence. It remains the furthest downstream crossing of the River Tees.
There are only eleven transporter bridges left in the world, and still fewer that actually work. In the United Kingdom, only Newport boasts another working transporter bridge; there's another bridge in Warrington that's been out of use since 1964, while London's Royal Victoria Dock Bridge was designed with (as yet unused) transporter bridge capabilities.
As with all transporter bridges, it works through loading people and vehicles onto a gondola, suspended from the main structure. This then moves back and forth – in less than two minutes each way – allowing traffic to cross. Here's the gondola in action:
The current tolls are surprisingly small: just £1.30 for a car, or 70p for a pedestrian or cyclist. For a smaller fee, it used to be possible to climb the steps at either end and walk across the top of the bridge. A restoration project going on at the moment will install glass elevators to transport visitors to the top, making the reportedly extraordinary views accessible to everyday visitors once again.
This 1,717th post was filed under: Photo-a-day 2012, Architecture, Bridges, Middlesbrough.