Warning: This post was published more than 11 years ago.
I keep old posts on the site because sometimes it's interesting to read old content. Not everything that is old is bad. Also, I think people might be interested to track how my views have changed over time: for example, how my strident teenage views have mellowed and matured!
But given the age of this post, please bear in mind:
My views might have changed in the 11 years since I wrote this post.
This post might use language in ways which I would now consider inappropriate or offensive.
Factual information might be outdated.
Links might be broken; embedded material might not appear properly.
Many thanks for your understanding.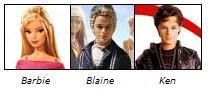 You'll remember Valentine's 2004.  It was the year that the world's most famous celebrity couple split, a spokesperson saying that they were to 'spend some quality time apart'.  But it was widely known that Barbie had dumped Ken – her lover of forty-three years – for Blaine, an Australian 'boogie surf boarder' she met on a trip to California.
But now, two years on, he's back.  Ken has got back up, dusted himself down (with a little help from the Hollywood stylist Phillip Bloch), and the couple are said to be romantically involved once again.  A lot has changed for Ken in the last couple of years – he's been off on a self-reflection trip around Europe and the far-east, and seems to have matured somewhat, preferring Norah Jones to his pop-filled past, and becoming a bit rougher around the edges, with ripped jeans and unkempt hair.  It's all in sharp contrast to Blaine's perfected, obsessive self-styling.
So the romance is back on, after a two-year separation.  But what's become of Blaine?  Nobody seems to have any comment to make.  It seems this home-wrecker has gone into hiding for now, at least.  Perhaps he just couldn't compete – after all, most of us would love to look like Barbie and Ken when we're in our fifties – perhaps he was already starting to age.
Hmm… What am I doing with my life?
This 819th post was filed under: News and Comment.