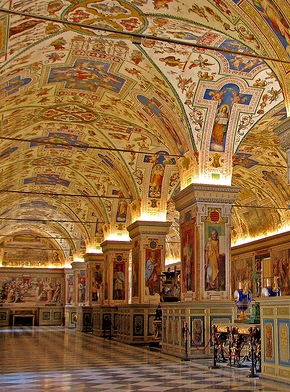 Photo by Lawrence OP, modified under licence As I mentioned in the diary, The Vatican has pronounced a number of new mortal sins… The twist being that it would seem that The Vatican itself is guilty of most of them. I'm guessing that it wasn't some kind of point about everyone being a sinner they were trying to make.
The seven 'new sins' are kicked off with 'environmental pollution'. That might sound like a reasonable cause – The Vatican is at least agreeing with the science for once. Except the Vatican has huge investments in the chemical industry, steel, construction, and real estate. Not the most environmentally friendly of industries, but then perhaps its not a sin if you're merely funding somebody else's environmental pollution.
The Holy See has also decided that 'accumulating excessive wealth' is evil… despite having a vast fortune estimated at over $15bn in the bank. Is that not a little excessive? Certainly wouldn't fit through the eye of a needle…
Also on the financial front, they're objecting to 'inflicting poverty' and 'morally debatable experiments' – both items which are contravened by their extreme stance on the use of condoms in countries riddled with HIV. Both your parents dying from a preventable disease is undeniably inflicting poverty, and preaching that condoms don't work can be described as little other than a cruel and unusual experiment in failing to halt the spread of the disease.
It could also be argued that this is in 'violation of fundamental human rights' – another terrible sin – but I honestly can't understand how the Vatican defines 'fundamental human rights': The policies it advocates on homosexuality, abortion, and euthanasia – not to mention the systemic covering up of child abuse – are certainly not congruent with my understanding of human rights.
The fact that people continue to have faith in Catholicism when the Vatican appears to be so corrupt and hypocritical astounds me – it's surely either an expression of true, deeper faith, or simple brainwashing and conditioning. I know which theory I prefer.
This post was filed under: News and Comment.