Hold up! Before you read on, please read this...
This post was published more than 16 years ago
I keep old posts on the site because I often enjoy reading old content on other people's sites. It can be interesting to see how views have changed over time: for example, how my strident teenage views have, to put it mildly, mellowed.
I'm not a believer in brushing the past under the carpet. I've written some offensive rubbish on here in the past: deleting it and pretending it never happened doesn't change that. I hope that stumbling across something that's 16 years old won't offend anyone anew, because I hope that people can understand that what I thought and felt and wrote about then is probably very different to what I think and feel and wrote about now. It's a relic of an (albeit recent) bygone era.
So, given the age of this post, please bear in mind:
My views may well have changed in the last 16 years. I have written some very silly things over the years, many of which I find utterly cringeworthy today.
This post might use words or language in ways which I would now consider highly inappropriate, offensive, embarrassing, or all three.
Factual information might be outdated.
Links might be broken, and embedded material might not appear properly.
Okay. Consider yourself duly warned. Read on...
I've had my first exam. How exciting. It wasn't that bad…though it was three hours long. I have a five hour one tomorrow (help).
A small building has appeared over Christmas, which is rather impressive – I didn't think builders were capable of operating at that speed. It hasn't finished being decorated yet, but according to my College newsletter it will be "a social space with TVs, PCs, newspapers, magazines, coffee and tea. So that's nice. But then, that's what I thought the TV room was for… I suppose this is a bit bigger than the TV room though, and will have computers, so that'll be nice.
All of this is by way of a pre-amble to the following letter, issued by Grey College up in Durham (the only college to have branded underwear, I believe). I think it needs no comment: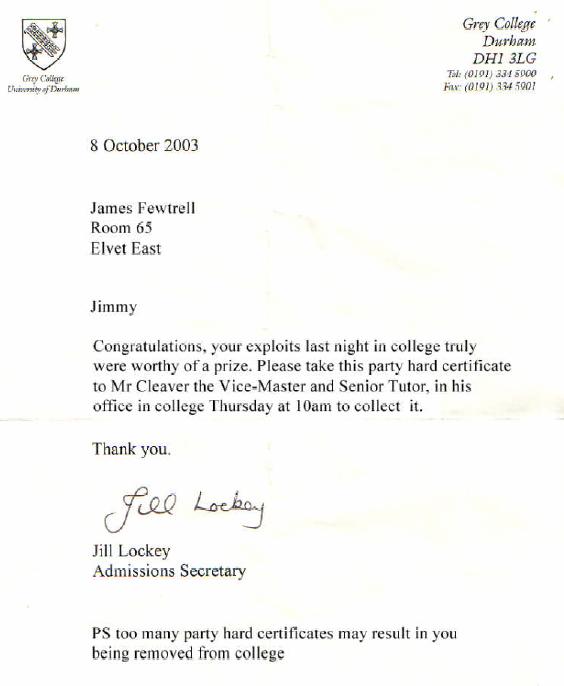 Originally posted on The LBSC
This 64th post was filed under: Exams, University.