Yesterday, while Wendy was busy presenting at an international conference, I crossed the border from California to Tijuana to go exploring.
From San Diego, this was very straightforward. The Blue Line on the San Diego Trolley took me directly to San Ysidro, the district on the US side of the US-Mexico border. The Trolley stop is maybe 200 metres from the border crossing point, and there are helpful signs to put the way. There are also lots of slightly threatening signs from the US Government about covert monitoring.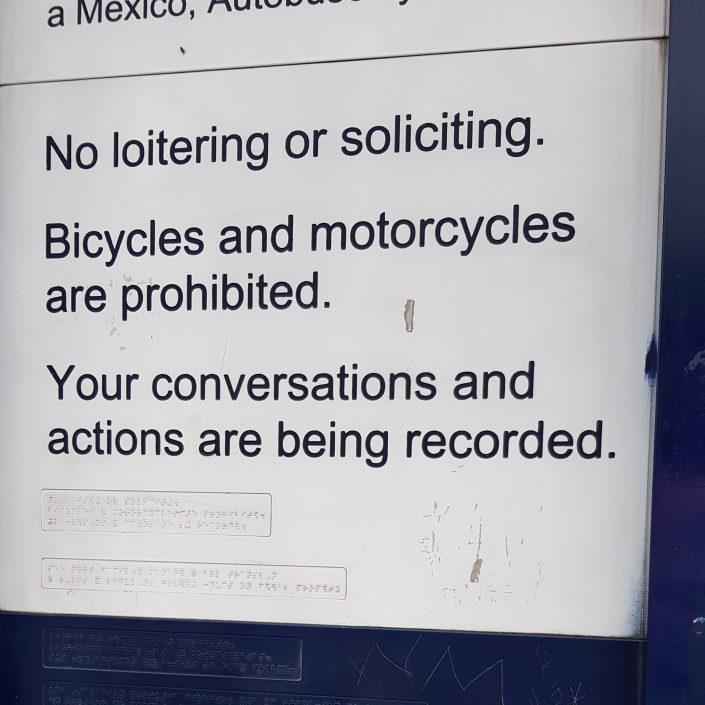 There are, in fact, two pedestrian border crossings: one near the Trolley station, and one a short walk away by the Border Outlet Shopping Centre. I took the former (better sign-posted) option, walking up what felt a lot like a back alley behind a coach station to the border crossing point.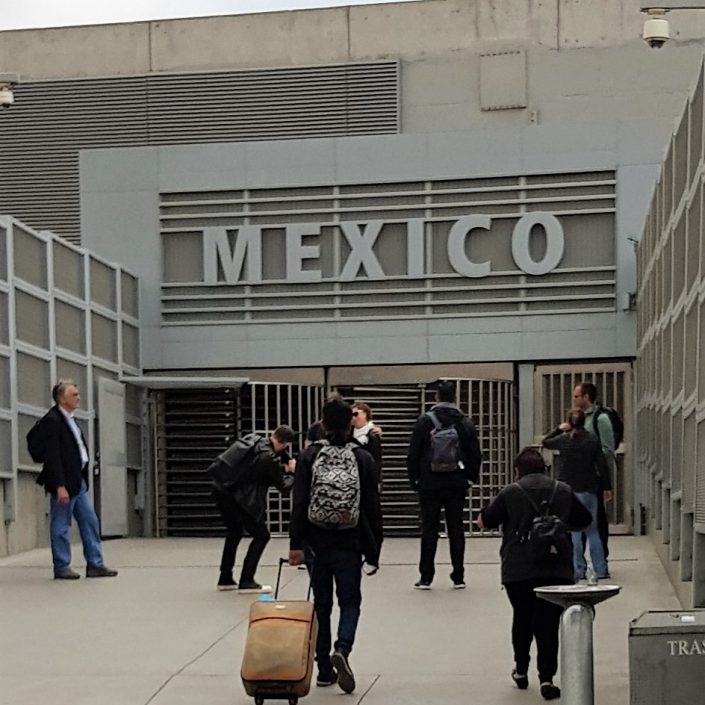 On entering through the slightly threatening no-return gates, I entered a border crossing, reminiscent of a typical airport border point. There was a very long queue for people with Mexican passports, but nobody in the queue for people who, like me, had foreign passports. This phased me a bit: I knew from my prior research that I needed to fill in an immigration card, but could see neither a card nor anywhere to fill it in. In the end, I just approached one of the border agents' desks, where a friendly officer told me not to worry, it was quiet, and I may as well fill it out at her desk, which I did while she checked my passport.
We made small talk about this being my first time in Mexico (she was amazed), her previous experiences of visiting London and the sights of San Diego I'd seen so far. Before long, she'd stamped my paperwork and sent me on my way. After this point, customs x-ray searched any large luggage, but as I had none I was straight back outside and in a new country.
From here, it's typically a 20-minute walk to the touristy area around Avenida Revolución, but I went a bit wrong, crossing over a highway on the footpath of a road bridge rather than the more direct pedestrian bridge, so it took me about half an hour. This walk is not through a particularly attractive area. I was pestered frequently by disabled and often elderly beggars, street sellers, and taxis pulling up alongside me to offer me lifts. Looking down on the vehicular border crossing, I could see stall upon stall with sellers plying their trade to people waiting in the long, seemingly stationary queue for the US border.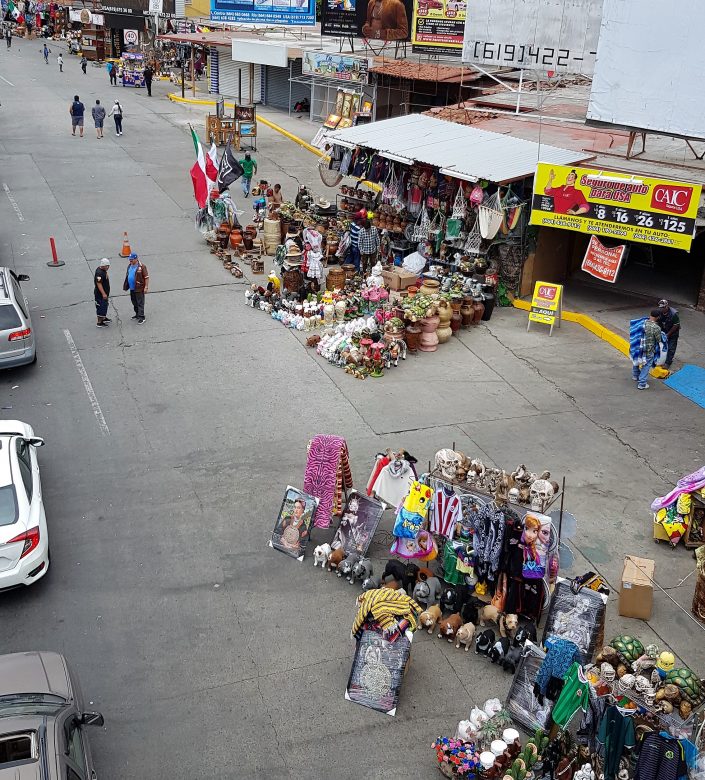 I walked through expanses of largely deserted civic architecture with broken fountains and such surrounded by closed up shop units. It was a bit eerie. I'm not sure whether this is attributable to me visiting on a Sunday or to the significant downturn in the Mexican economy in the decades since Tijuana was a real draw for tourists.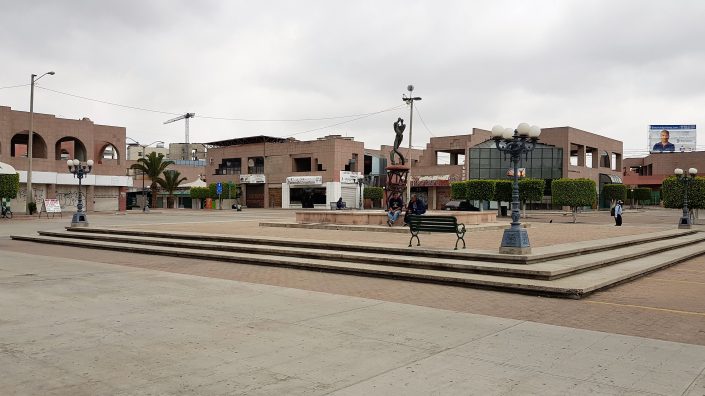 Here and there along the way, there were small stores and restaurants whose seemingly desperate owners practically begged me to come in and look at their wares, often offering free alcohol as an enticement. I'm afraid I declined.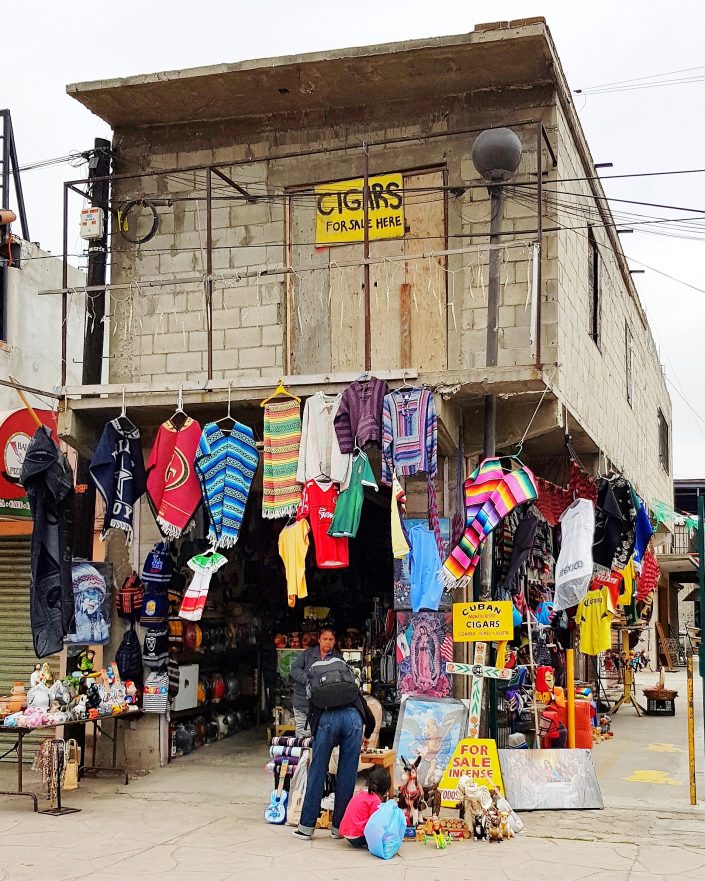 My own idiocy in taking the wrong bridge notwithstanding, it was actually quite easy to navigate to Avenida Revolución thanks to the visible-from-everywhere Tijuana arch, which stands right in the centre. Rather disappointingly, the sign in the middle seems to have changed from the famous 'Bienvenidos a Tijuana' on a Mexican flag background to something "modern" sponsored by Samsung.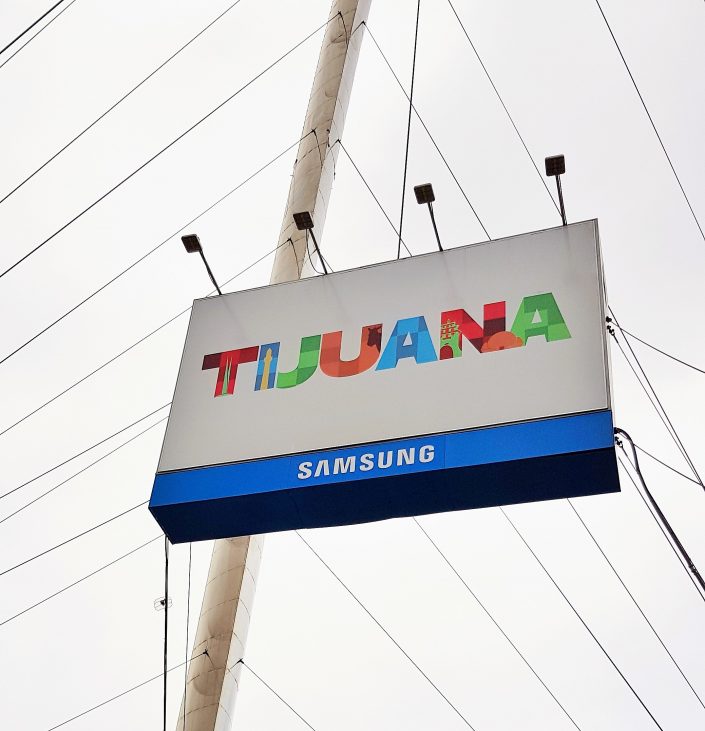 The area around Avenida Revolución was lively in every sense, with performers drawing large crowds, street vendors enthusiastically shouting about their products, and bars and restaurants making keen efforts to attract the passing traffic. The famed decorations around Santiago Argüello lent a party atmosphere to the whole area.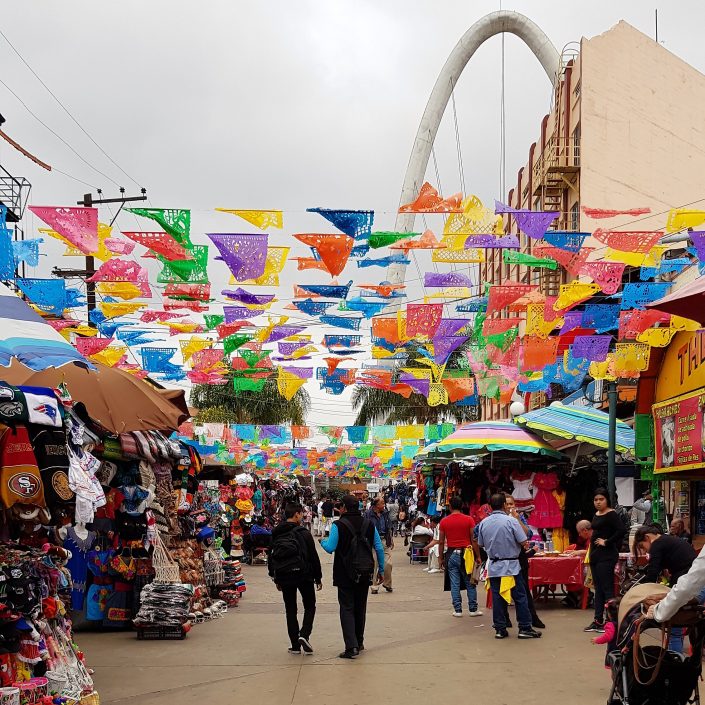 And yet, I found it hard to forget the scenes of deprivation and desperation I'd walked through to get to this point, not least as I knew I was going to have to walk back the same way before too long. This left me feeling a little melancholic. Nevertheless, I had a good wander around, aimlessly soaking in the atmosphere rather than rushing into any of the frequently advertised tourist attractions.
I got far less lost on the way back thanks to very frequent signage to the US border. I crossed back over at the other of the two border crossings I mentioned.
There could hardly have been a more marked difference between the manner of the crossing in the two directions. As soon as one stepped through the gates to the US border crossing complex, frequent stern signs forbade the use of mobile phones and cameras. Crossing back into the USA involved a walk through a labyrinthine concrete corridor ending with an almost whimsical spiral concrete ramp to even reach the border crossing point. I had to queue for a little over an hour to meet the US border agent, who questioned my intentions in crossing the border in some detail. He also seemed a little confused by the fact that my passport was for both the United Kingdom and Northern Ireland, which hardly inspired confidence, but he did eventually let me through.
The fact that the US-Mexico border is the first controlled land border I've ever crossed probably says more about the remarkably peaceful times in which I've lived that it does about me personally. At the time I crossed the Denmark-Sweden border it was technically manned, but this just involved someone passing through my train cursorily glancing at passports. Some pundits currently predict something similar will be in existence between Northern Ireland and the Republic by the time this is published: I think that's nonsense, but that's perhaps a post for another time.
At the moment, I'm part-way through Rutger Bregman's Utopia for Realists. In this book, which argues for a borderless world, the US-Mexico border is cited specifically as one which inflicts economic harm on people on both sides. I found the apparent difference in living standards quite shocking: it seems mildly crazy that people living in two developed countries and so physically close to one another can have such different life experiences and prospects.
There has been much written over the last few months about the level of poverty in California, despite its reputation as a liberal state. Wendy and I have both been quite surprised to see the seemingly high number of homeless people in San Diego. Crossing the border, I felt as though there was a far greater degree of profound poverty in Tijuana, but perhaps California's poverty is just better hidden than Tijuana's. Appearances can, after all, be deceiving.
I'm glad I took the time to visit Tijuana while I'm over here in California. The experience wasn't at all what I had expected: rather than a tacky pastiche Mexico "mini theme park" which I had thought would exist on the other side, the reality has left me more pensive and reflective than I would have expected. And that's no bad thing.
---
Fairly obviously, all of the photos in this post are my own.
This post was filed under: News and Comment, Posts delayed by 12 months, Travel, California, Mexico, Reflection, Tijuana, Travel, USA.