Hold up! Before you read on, please read this...
This post was published more than 14 years ago
I keep old posts on the site because I often enjoy reading old content on other people's sites. It can be interesting to see how views have changed over time: for example, how my strident teenage views have, to put it mildly, mellowed.
I'm not a believer in brushing the past under the carpet. I've written some offensive rubbish on here in the past: deleting it and pretending it never happened doesn't change that. I hope that stumbling across something that's 14 years old won't offend anyone anew, because I hope that people can understand that what I thought and felt and wrote about then is probably very different to what I think and feel and write about now. It's a relic of an (albeit recent) bygone era.
So, given the age of this post, please bear in mind:
My views may well have changed in the last 14 years. I have written some very silly things over the years, many of which I find utterly cringeworthy today.
This post might use words or language in ways which I would now consider highly inappropriate, offensive, embarrassing, or all three.
Factual information might be outdated.
Links might be broken, and embedded material might not appear properly.
Okay. Consider yourself duly warned. Read on...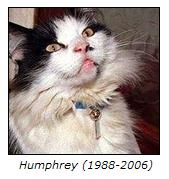 Humphrey, Chief Mouser to the Cabinet Office, has died aged 78*. Possibly the most interesting of the former inhabitants of Downing Street, he was drafted in a year after the retirement of the previous incumbent of his post, Wilberforce, in 1987 following 70 years' faithful service*.
Humphrey combined the Blairite spirit of social mobility (homeless to Minister) and Thatcherite cost-cutting (£3900 off the Downing Street pest-control bill) long before David Cameron even thought about cutting his political teeth.
Like most Downing Street residents, Humphrey was involved in many scandals during his political life. In 1994, he was falsely accused of murder, leading Prime Minister John Major to personally protest his innocence. The very next year, he was found to be 'missing, presumed dead', though three months later was found to have been merely holidaying at the Royal Army Medical College. This discovery lead to him releasing his first, and only, public statement to the press:
I have had a wonderful holiday at the Royal Army Medical College, but it is nice to be back and I am looking forward to the new parliamentary session.
Things were relatively stable in Humphrey's life until the upheaval caused by Labour's election in 1997, which badly shook Humphrey, and led his long-term kidney condition to worsen. He was forced to retire later that same year, though controversy still surrounds the issue of his departure: Some say that Cherie Blair insisted on his retirement, though this has been consistently denied.
Even in retirement, scandal was never far away: Shortly after Humphrey's retirement, Alan Clark MP alleged that he had been assassinated by the incoming Labour government, and demanded evidence that this wasn't the case. Of course, Humphrey was more than happy to oblige, but valuing his privacy insisted on a photo-shoot at a secret location, picturing him with a stack of the day's newspapers. Many cruelly commented that he appeared to be putting on weight in retirement, and these comments led to Humphrey retiring completely and permanently from the media spotlight.
In 2005, Humphrey was briefly back in the news, with an attempt to discover his whereabouts using the Freedom of Information Act. These efforts were largely fruitless, though The Independent did claim to discover that he was alive and well.
Earlier this week, the Downing Street Press Office announced the sad death of Humphrey saying that he 'sadly died last week some time'. To think that one of (if not the) longest serving resident of Downing Street was not honoured in any way, or even given the dignity of a proper announcement of the date of his death, is rather distressing. One would hope that, after so many false announcements and presumptions of death throughout his life, when it finally did come, he would be properly respected. But it was not to be.
Requiescat in pace
*That's cat years, of course.
This 843rd post was filed under: News and Comment.