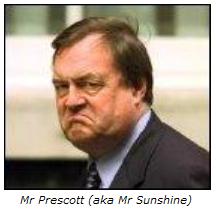 In a move almost as expected as Tony Blair's, John Prescott has announced that he will resign as an MP at the next election.
It'll be quite sad to see him go – Whilst he was a comically terrible Deputy Prime Minister, he was a colossal figure in the Labour Party, probably more important to it over the last fifteen years even than Tony Blair. Blair wouldn't have got anywhere without Prescott, and neither would Labour.
He's even provided much fun on these pages over the years – from his interview technique (more than once), to his non-job, to his affair (also more than once). His complete lack of PR awareness made him a bit of a figure of fun for the media, but his style meant that he could always connect with the grass roots of the Labour Party, unlike almost anyone else.
Brown's government will dearly miss a figure like Prescott.
This post was filed under: Politics.